West Hollywood's Whisky a Go Go Installs New RCF Sound System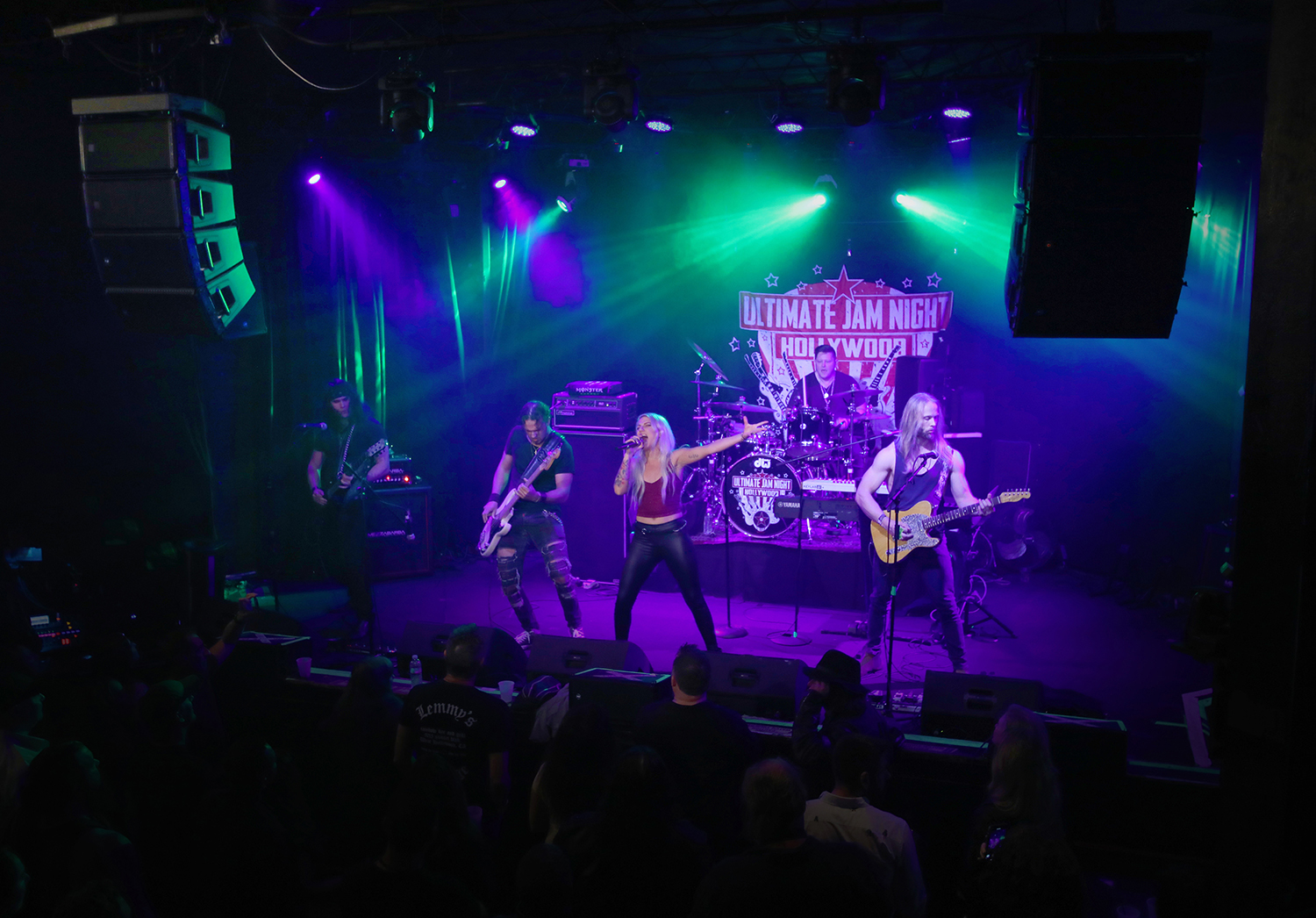 Edison, New Jersey — Simply put, the Whisky a Go Go, located on the Sunset Strip in West Hollywood, CA, is quite possibly the most iconic live rock music venue in the US and, perhaps even, the world. It first opened its doors on January 16th, 1964 and has famously acted as a launching pad for bands as diverse as the Doors, the Byrds, Buffalo Springfield, Steppenwolf, Van Halen, No Doubt and many, many others. Heck, even Led Zeppelin made their US-debut there. To say that playing the Whisky is a right-of-passage for bands would be a massive understatement. But its legendary status goes even further than simple nostalgia. Nowadays, even well-established artists, like Kiss, Mötley Crüe and Slash are flocking to the Whisky to launch world tours by first playing before intimate audiences at the club. One may wonder why they would do that. One reason is because of the club's ongoing status as the place to play. Another is, perhaps, a chance to offer an up-close, personal experience for die-hard fans. The ultimate reason may now have to do with the sound system. With a newly installed PA, provided by Italian speaker manufacturer RCF, the Whisky is once-again asserting itself as the world's preeminent rock club.
In early 2018, the fine folks who run the Whisky decided it was time to overhaul its sound system. And so, in September, RCF Vice President of Sales and Marketing, Tarik Solangi, visited the club at the behest of the Whisky's Ultimate Jam Night host Paulie Z (Zablidowsky, formerly of Z02 and currently fronting a reformed Sweet), who identified the need for the system to be upgraded, not only because of the sonic properties (there were issues with the previous system being old and outdated), but also because there were some serious sightline issues. "The old system hung very low, and if you were upstairs, you literally lost two sides of the stage," explains Solangi. "So, it really killed the sightlines." Solangi, a sound engineer himself, was already familiar with the club, so he knew right away what he wanted to install—RCF's HDL 30-A Active Two-Way Line Array Modules, a compact bi-amped system designed for medium to large venues. "The 30-A is such a great, musical, rock and roll box," he continues. "It really has a great sound for live rock music, and I knew that, with just a minimal number of boxes per side, we'd really be able to increase the sightlines." Whisky's senior engineer Eddie Oertell, who has been working at the club on-and-off for more than 30-years, also admits that the low profile of the HDL 30-A was a big selling point. "Anywhere in the club, you can see the stage now," he concurs. "The PA is not covering the band anymore, so the sightlines are improved immensely, and everyone is really excited about that."
Ryan Ainsworth, who has been engineering at the Whisky for the last six and a half years, was also incredibly impressed by the HDL 30-As, not only because of improved sightlines, but also because of their sonic properties, particularly when compared to the previous system. "We went from having this very large, point-of-source system that was so monstrous, it took up a ton of space and ruined the intimate experience of the club because of how low it hung," he explains. "Then we went with the little, tiny HDL 30-A boxes and they directly compete with the previous system, which was much, much larger in size and that's the thing that most surprised me—it's cool to hear those HDL 30-As put out massive sound."
Oertell and Ainsworth, along with Leonard Contreras, shuffle mixing responsibilities at the Whisky with their bread-and-butter road gigs. Oertell is with GWAR, mostly, but has also served as front-of-house (FOH) for Slipknot, Mudvayne, Anthrax, Ronnie Spector (of the Ronettes) and POD. Ainsworth acts as FOH for Butcher Babies and is an occasional fill-in for Oertell with GWAR. Contreras has served as FOH/monitors engineer with System of a Down, Slayer, Los Lobos and Stone Sour to name a few. Based on that track record, it's safe to assume that these guys know a thing or two about sound, particularly rock and roll, and yet, even they seemed amazed at Solangi's ability to quickly assess the room and make discerning recommendations. "Tarik came down to the room and looked at everything," recalls Oertell. "Then we talked, and he gave me his opinion on what he thought would be right for the room. It only took him like ten minutes. His vision for it was unbelievable."
Part of that vision included cleaning up the low-end, so, in order to do that, Solangi decided that the subwoofers had to go underneath the stage in a cardioid configuration. They installed RCF's SUB 9006-AS Active High-Power Subwoofers in a cardioid configuration under the stage, which really cleaned up the low frequency by projecting the low end into the center of the room. "The cardioid sub configuration under the stage helps take that energy and direct out into the crowd instead of letting it swell up under the musicians on stage," explains Ainsworth. Oertell further affirms this sentiment, saying that clarity and low-end are two improved factors resulting from that install decision. "The low-end is rounder and fatter," he says. "I was blown away by the clarity and tightness of the low-end—it is pretty impressive."
Solangi and his RCF team worked with the Whisky's in-house team, as well as RCF's pro partner, Above The Ground Productions, on the installation, which took a mere one day, believe it or not. RCF product specialist Steven Cochran tuned and aligned the system using network controlled RDNET software. Additionally, knowing the volume that most bands who play the Whisky perform at, they added RCF's TT45-CXA Active High-Output Stage Monitors to even out the stage volume. "The monitors are very in your face and punchy and they really allow the musicians to hear themselves better on stage, without having to crank the volume," explains Ainsworth, who is usually FOH for Ultimate Jam Night. "The thing about those shows [Ultimate Jam Night] is that you never know what you're going to get. Things can change completely from song to song, from a rotating cast of musicians to multiple genres to different types of instrumentation and the RCF system allows me to have continuity—I know what the system is going to put out, even if I don't necessarily know what's going to come off the stage."
According to Oertell, one of the things they discovered, once the system was installed, was that the room now sounds like the room. "I think that's one of the things that made the Whisky famous over the years," he explains. "It's a good sounding room, especially for rock bands. The room has a natural ambience to it and a great PA, like the RCF solution, just enhances that—it's a no-brainer."
Ainsworth says all of the engineers coming through the Whisky now are just completely blown away. "They're all like, 'Wow,'" he attests. "The room sounds amazing, and that's what we strive for—it's to have every engineer that comes through, walk away with a good feeling, knowing that it was a good time, a great show and that the PA sounded amazing—and it's all due to RCF."
On that note, Solangi became one such engineer who had the opportunity to mix on the system, a short while after the install, while on tour with Zebra. "The reason why I went out with them was because I wanted to mix them on the Whisky's system. It was one thing to spec the system and do the installation, but it was another thing to come back in, a month and half later, and mix a band in that room. The RCF system was so clear with so much headroom that it was really a pleasure to mix there. It exceeded all of my expectations."
Inside the Whisky a Go Go
Location: 8901 Sunset Blvd., West Hollywood, CA
Established: 1964
Line Array System: HDL 30-A, Active Two-Way Line Array Modules (8)
Subwoofers (under stage): SUB 9006 (6)
Floor Monitors: TT45 CXA (4)
Front Fills: HDL 6-A (3)
Side Fills (not shown): NX45 (2)
Audio Engineers: Ryan Ainsworth, Eddie Oertell, Leonard Contreras
System Designers: Tarik Solangi, Jim Reed
For more information, please visit www.rcf.com.