VUE Appoints Michael Colon as North American Western Regional Sales Director​
Three decades of pro audio market development experience will fuel VUE's continued rapid market adoption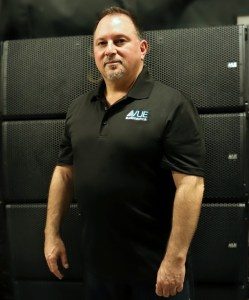 Escondido, Calif. – VUE Audiotechnik is pleased to announce the appointment of Michael Colon as western regional sales director for the United States. Colon's announcement is the latest in a series of recent high-level appointments as VUE adds talent to support increasing worldwide product line adoption.
Michael will develop and support VUE's regional independent rep network while serving as the primary liaison for key customer accounts in the territory. Colon will report directly to VUE's COO, Sara Elliott, and work alongside the company's existing segment-specific sales personnel to continue the brand's momentum in key markets, including touring sound, House of Worship and fixed installation.
Immediately prior to joining VUE, Michael served as the western regional sales manager, North America, for Martin Audio. Through his 27 years in the business, Michael also served as national sales manager for Group One Ltd., working with brands such as XTA and MC2 Audio. He has also held strategic sales leadership roles at Crest Audio and JBL Professional.
"Over the course of his impressive career, Michael has built significant market momentum for the brands he represents while earning the respect and affinity of his customers along the way," said VUE COO Sara Elliott. "Michael shares our core values and understands that our industry thrives when we work to build long-term, mutually beneficial customer relationships. I couldn't be more excited to welcome Michael into the family, and I can't wait to watch him create amazing opportunities for our customers and our company."
Commenting on his new role, Colon was nothing short of enthusiastic; "VUE has entered a very large arena and managed to grab the spotlight in a really short period of time. That's a real testament to an innovative technology portfolio and a design approach that empowers end-user creativity while driving sonic performance to a whole new level. I couldn't be more thrilled to share these products with my industry contacts and to contribute to the significant momentum and energy around this brand."
For more information, please visit www.vueaudio.com.