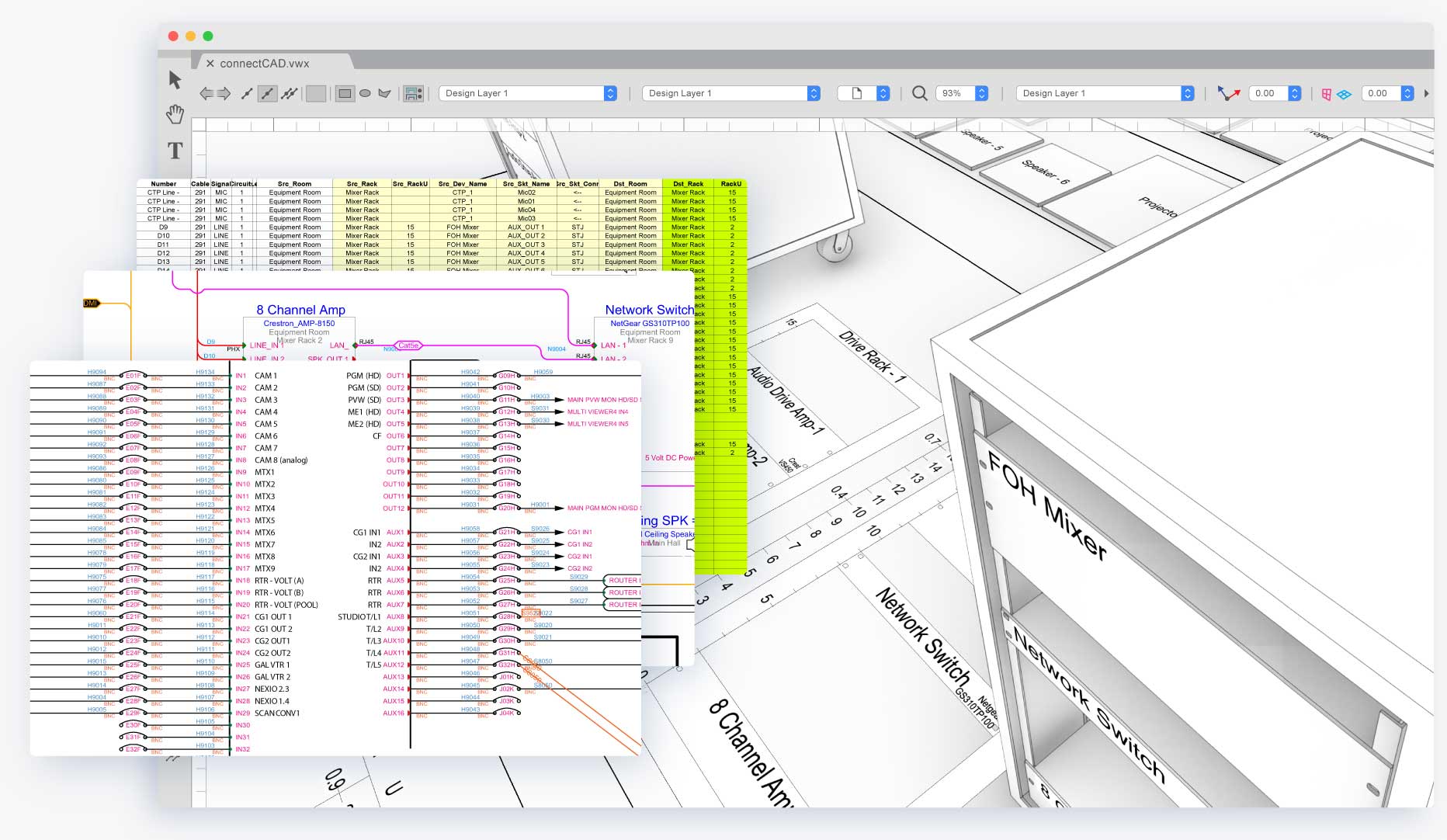 Vectorworks, Inc. Announces Availability of ConnectCAD 2020 for Entertainment Market
Signal flow technology is part of Vectorworks 2020 Service Pack 2 release and on display at LDI booth 1331
Columbia, MD (November 20, 2019)—As part of the acquisition that was finalized in August 2019, global design and BIM software provider Vectorworks, Inc. brings ConnectCAD 2020 to market in conjunction with the Vectorworks 2020 Service Pack 2 release. From simple to complex, the ConnectCAD add-on to Vectorworks Spotlight and Designer allows AV system designers to lay out signal flows in an easy-to-read format.
"Since ConnectCAD is built on Vectorworks technology and available as an add-on for Spotlight and Designer, you can take advantage of the flexible and robust design and documentation capabilities that have made Spotlight the entertainment industry standard," said Vectorworks CEO Dr. Biplab Sarkar. "With features like data visualization and bi-directional worksheets, along with an extensive manufacturer library and a customizable 2D/3D hybrid environment, you have everything you need to design with confidence."
Moreover, collaboration among team members and project stakeholders has never been easier with this latest version of ConnectCAD. With ConnectCAD customers can:
Create schematic drawings
Effortlessly make changes throughout the iterative design process
Diagram rack layouts
Check for errors
Create detailed reports
Communicate effectively with onsite installation technicians
"At Vectorworks, I've found myself amongst a group of people that I can really communicate with, and we share a similar mindset and goals," said Conrad Preen, ConnectCAD founder and now software engineer at Vectorworks. "The technical excellence of Vectorworks is important and has helped us grow immensely in our current development to get further towards what we would like the product to be. Plus, Vectorworks' passion to expand the reach of the product is more than I could have ever hoped for."
ConnectCAD will be on display from November 22 to November 24 at the Live Design International Show 2019 in Las Vegas, Nevada at booth 1331. Learn more about the new integration between Vectorworks and ConnectCAD by visiting vectorworks.net/connectcad or get a 30-day free trial of Vectorworks Designer to experience the technology first hand.
About Vectorworks, Inc.
Vectorworks, Inc. is an award-winning design and BIM software provider serving the architecture, landscape architecture and entertainment industries in 85 countries. Creating intuitive software since 1985, we've become the preeminent software built to manage the entire design process. Globally more than 685,000 users are creating, connecting and influencing the next generation of design with Vectorworks on Mac and Windows. Headquartered in Columbia, Maryland, with offices in Atlanta, Georgia, Newbury and London, England and Vancouver, Canada, Vectorworks is a part of the Nemetschek Group. Learn how we empower designers to create experiences that transform the world at vectorworks.net or follow @Vectorworks.
###