By: Ricky Perinchief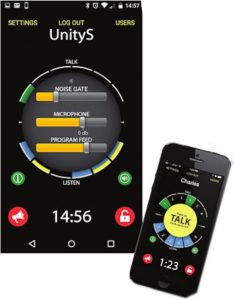 As a child who grew up in the 80's, we sure had it rough! No personal computers, no streaming services, and no smartphones. I'll never forget the night before I started college as a fresh faced 17 year old recent high school graduate; My parents were apprehensive about me commuting 90 miles on the interstate to campus every day, so they presented me with a gift: a new-fangled contraption called a cellular phone. It was a dark-grey colored bulky handset with a large black antenna-offering poor battery life and even poorer reception. Who could have ever imagined that over two decades later, we'd be walking around with a smartphone capable of carrying out more tasks in a nanosecond than ever thought possible? For many, it's become the very thing we just can't live without.
Now, thanks to the tech wizards at Unity Intercom, that device in your pocket can also transform into a professional intercom solution for broadcast, live performance, live events, and more. Cost effective, robust, and reliable enough-even for the likes of ESPN, Fox Sports, and the Olympics. Unity Intercom is a full-duplex intercom system that connects via WiFi or Cellular data. All you need is a Mac to run the Unity server software, and iOS or Android devices running the Unity Client App. I first tested Unity nearly four years ago with very few hiccups, and within a few months I moved my church over to Unity from a traditional wired intercom system. For years I'd been looking for a feasible wireless comm solution for broadcast and production, but everything I looked at was way outside of our price range.
Unity Intercom is pretty much plug and play. In fact, we were surprised how easy it was to setup. They even provide a free 14-day trial. We installed Unity Server on an existing Mac Mini, the same one that runs our switcher software. While in the Unity Server software, you can create a database of usernames and passwords. You can also assign access to each of the six different channels. My company, Proton Global Media Group, has installed dozens of Unity Intercom systems at churches all over the country, both large and small. One of the keys to ensuring Unity Intercom is rock solid: make sure you have an adequate WiFi network. When testing, we just grabbed an old access point off the shelf and wondered why we were experiencing lagging audio and intermittent dropouts. After speaking with Unity support, we ordered an inexpensive access point from Ubiquity, and it has been near-flawless ever since.
Just connect to WiFi or configure for cellular data, login the app, and once connected you can talk and listen on independent PL (partyline) channels or have private conversations with individual users. Unity can also integrate with existing hard-wired intercom systems. There are six channels to choose from. For example: broadcast on one channel, production on another, ushers, parking lot, security, pastoral assistants, etc. You can even send program audio into your Mac via the 1/8" microphone input, and there is a slider in the app's settings where you can turn that up/down on/of.
You could also purchase iPod Touch's and mount them at the camera position or desk, while others will just have their team install the free Unity Client app on their own iOS or Android devices. Simply plug in the earbuds that came with your device. Unity also offers real broadcast-style single or dual-ear headsets with great noise cancellation and tight fitting ear muffs that help you hear clearly even in loud environments, small single headsets for PA's, or even inconspicuous security-style earsets for your ushers. How affordable? Unity server base license is just $499.99 and comes with three users. Additional licenses can be purchased with the most cost-effective being a block of 10 at $799.99. To clear up any confusion, your database can have your entire list of users, not all of them have to be active simultaneously. My favorite feature has to be the wireless tally module for $499.99. It integrates seamlessly with our Blackmagic ATEM switcher and provides wireless tally. This is especially great for our roving camera on a wireless gimbal. We mounted an iPod Touch above the monitor with Unity Client iOS running. When the camera is on preview on ATEM, the entire Unity screen glows green. When it's on program on the ATEM, the tally glows red, letting you know you're live! Absolutely brilliant!
Rather not own or manage your Unity Server? Let them do it for you with Unity Intercom Cloud. Choose between annual, monthly, or even seven day event licenses. In addition to Unity Intercom and Unity Intercom Cloud, Unity Connect can send and receive 64 audio streams across the internet at low latency and broadcast quality. It can take audio from your DANTE system and send it across the internet to a MADI system or tie two different comm systems together. This is a great tool especially for multi-site. If you're in the market for an affordable and highly capable wireless intercom system that can grow with you, Unity Intercom delivers. Download your free trial at UnityIntercom.com and feel free to contact us at ProtonGlobal.com if we can help integrate your system properly.
RICKY IS A 2-TIME EMMY WINNER WITH 20+ YEARS IN BROADCAST TELEVISION. CONSULTING AND SYSTEMS INTEGRATION; AND OVERSEES TECHNOLOGY FOR HIS FATHER AT NOW CHURCH IN OCALA, FL. HIS COMPANY, PROTON GLOBAL MEDIA GROUP, IS COMMITTED TO HELPING MINISTRIES OF ALL SIZES ACHIEVE TECHNICAL EXCELLENCE, AFFORDABLY.