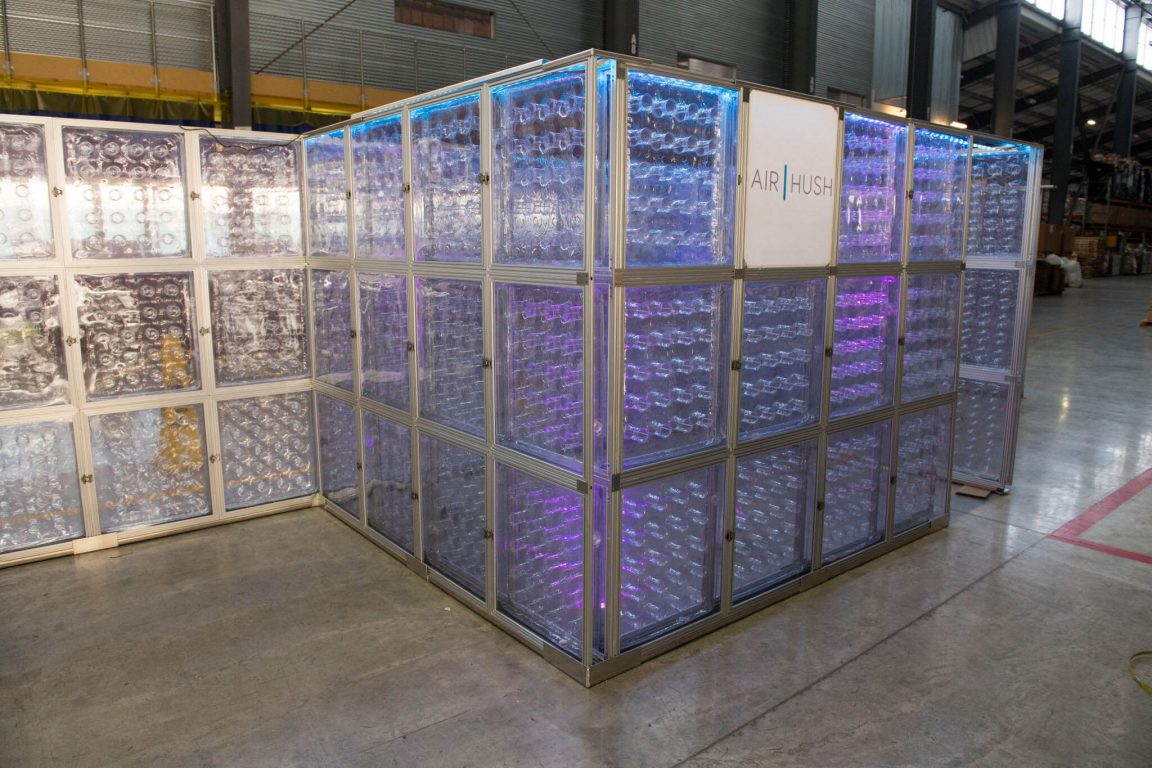 TransAudio Group Provides "A Quiet Place" at NAMM 2019
Launching AirHush®'s Revolutionary Product Called ISAT
(Inflatable Sound Attenuation Technology)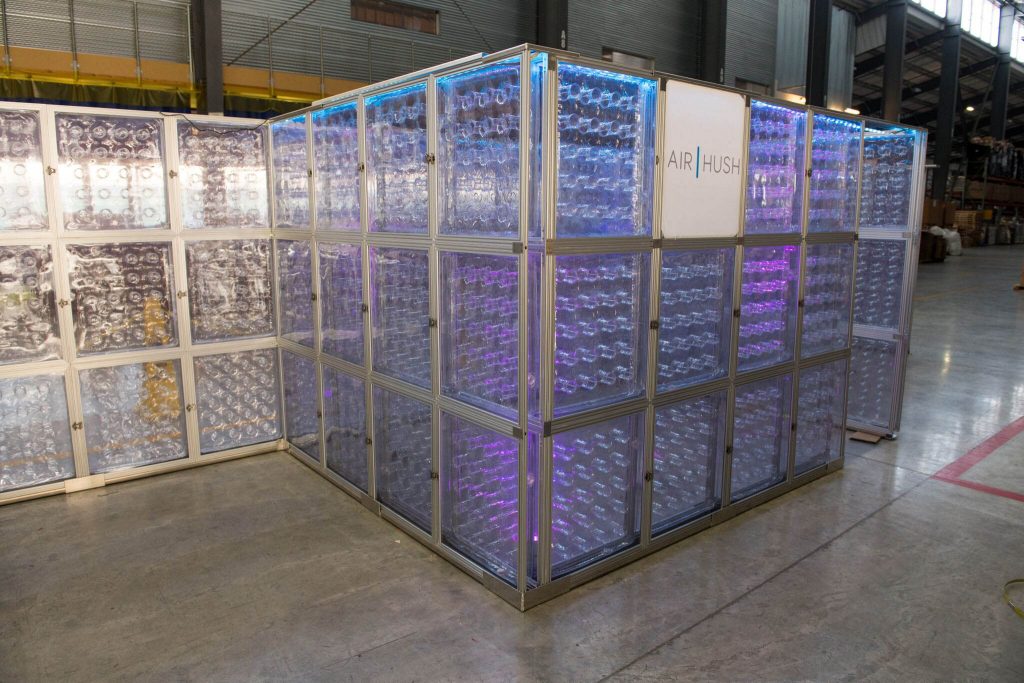 LAS VEGAS, NEVADA – JANUARY 2019: If you thought NAMM was too loud, you must visit the TransAudio Group's NAMM BOOTH #14914 and enter into a "quiet place," featuring a totally new concept in acoustic isolation developed by AirHush. TransAudio, the leading U.S. wholesale resource for high-end professional recording equipment, will introduce AirHush at 2019 NAMM by making AirHush's ISAT panels the very structure of its 10' x 50' NAMM booth.
The excitement around AirHush has been so great that NAMM selected AirHush for Media Preview Day coverage; TransAudio Group Founder and President Brad Lunde will be there, along with AirHush inventor Jim Pilaar to introduce this product to the press.
Why the buzz? AirHush's Inflatable Sound Attenuation Technology, or ISAT, is one of the most significant innovations in sound control of the last twenty years. This revolutionary idea is presented at NAMM in lightweight, transparent, modular and infinitely re-configurable panels that reduce SPL and create isolation in temporary or permanent locations anywhere. At roughly four square-feet per panel with sturdy metal frames that hold graphics or lighting, AirHush ISAT panels lock together easily to form any size enclosure, wall or barrier. ISAT opens up an entirely new universe of possibilities to the pro audio industry, creating spaces for testing, demo, monitoring or manufacturing by reducing SPL virtually anywhere, with no need for professional installation. AirHush panels also reduce freight cost tremendously as three deflated panels ship in the space of one inflated on-site panel.
AirHush's ISAT patented intellectual property addresses complex sound control issues in diverse settings ranging from open concept offices to schools, exhibit halls, recording studios, home theaters, museums and even industrial work sites.
"AirHush is the future of professional sound isolation and control," said Brad Lunde. "AirHush modular ISAT panels are the ideal solution for the pro audio industry. Whether recording, mixing, mastering or on stage, the need to reduce and control SPL is key. Your imagination is the limit. Create a room within a room, a vocal booth, a percussion isolation wall, or a box to isolate a noisy or loud source in a room or on a stage. For home studios AirHush delivers the SPL control you need to keep the peace. For post facilities, it's a way to create multiple spaces in an existing larger space, as well as for studios, a gobo you can see though, or additional mixing spaces in rooms that are not acoustically perfect."
"On the noisy NAMM expo floor there will be three AirHush presentations, at TransAudio's booth #14914, AirHush's own booth #15022, and Involve Audio's 20'x20' booth #11129. We will use a nearly 50' x 7' AirHush wall to form the back of our TransAudio's booth. In addition, we will have a walled-in AirHush meeting room with an open ceiling to show off AirHush's effectiveness, along with several partitions to subdivide the space into different areas for different manufacturers."
AirHush Silence is in the Air!
ABOUT AIRHUSH® ISAT SYSTEMS, INC. AirHush®'s Inflatable Sound Attenuation Technology, or ISAT, is one of the most significant innovations in sound control of the last 20 years. The Company's patented intellectual property is first in class, first-of-kind. It is based on the revolutionary premise of replacing the mass used in traditional sound control solutions with pressurized air (or other gases), combined with modern sound attenuation materials. AirHush® is the registered trademark of AirHush® ISAT Systems, Inc. For more information visit or email music@airhush.com
ABOUT TRANSAUDIO GROUP TransAudio Group, founded by industry veteran Brad Lunde, has quickly become the premier U.S. importer/distributor and/or U.S. sales and marketing representative for high-end audio. Success hinges on TransAudio providing dealers and end users with a higher standard of product expertise and support far beyond the norm. www.transaudiogroup.com
BE SURE TO STOP BY AND SEE US AT NAMM 2019 BOOTH #14914