THE NEW STANDARD IN HYBRID EVENT SWITCHING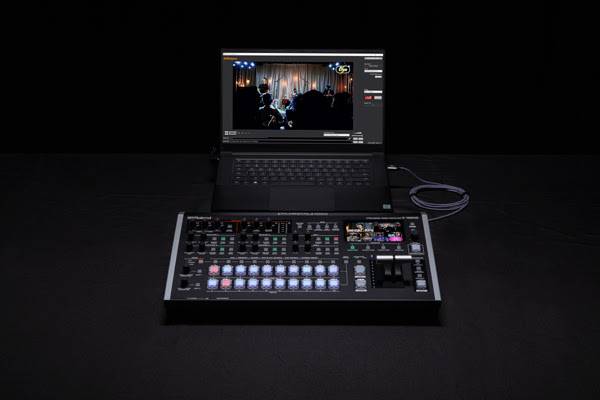 Roland's new V-160HD Streaming Video Switcher is the first hybrid event solution that empowers single operators to seamlessly produce event presentations for in-person and online attendees. Connect with live audiences in Full HD with comprehensive SDI and HDMI I/O and simultaneously stream to the web via USB-C. From video specialists to event volunteers, traditional automation tools—like presets, macros, and robotic PTZ (pan-tilt-zoom) camera control are unified with a sequencer—allowing operators to multi-task with confidence, reducing missed cues, poor audio, or delayed video switching issues.
The Ultimate Hybrid
Hybrid events require custom content displays with the ability to tailor the experience to each audience. In-person audience members see a presentation on in-room displays, while online attendees view the presenter and their content layered on the screen simultaneously.
HDMI and SDI I/O Versatility
No two events are technically the same. With the ability to mix eight HDMI and eight SDI sources in full HD, the versatile V-160HD works with everything from cameras, computers, tablets, smartphones to gaming consoles and even legacy 4:3 devices, maximizing revenue opportunity.
Cue it Up
Execute perfectly timed cues with ease thanks to the newly developed V-160HD sequencer. You can record up to 1000 steps in the sequencer, each of which can include presets, macros, video effect layers, audio mixing, and PTZ cameras. Simply set up your cues ahead of time in the sequence list and trigger them in order using the Next button on the panel. Now, you can tackle the most complex events without breaking a sweat.
PTZ Control
There's no need for multiple camera operators when you have robotic PTZ cameras. Compact and discreet, these cameras capture all the action with studio-grade broadcast quality. In addition, the V-160HD includes built-in support to directly control a range of compatible cameras. Mix and match various brands and operate up to 16 PTZ cameras simultaneously.