BenQ LK952 4K HDR BlueCore Laser Projector Delivers Clarity and Reduces Operational Expense at Frisco Bible Church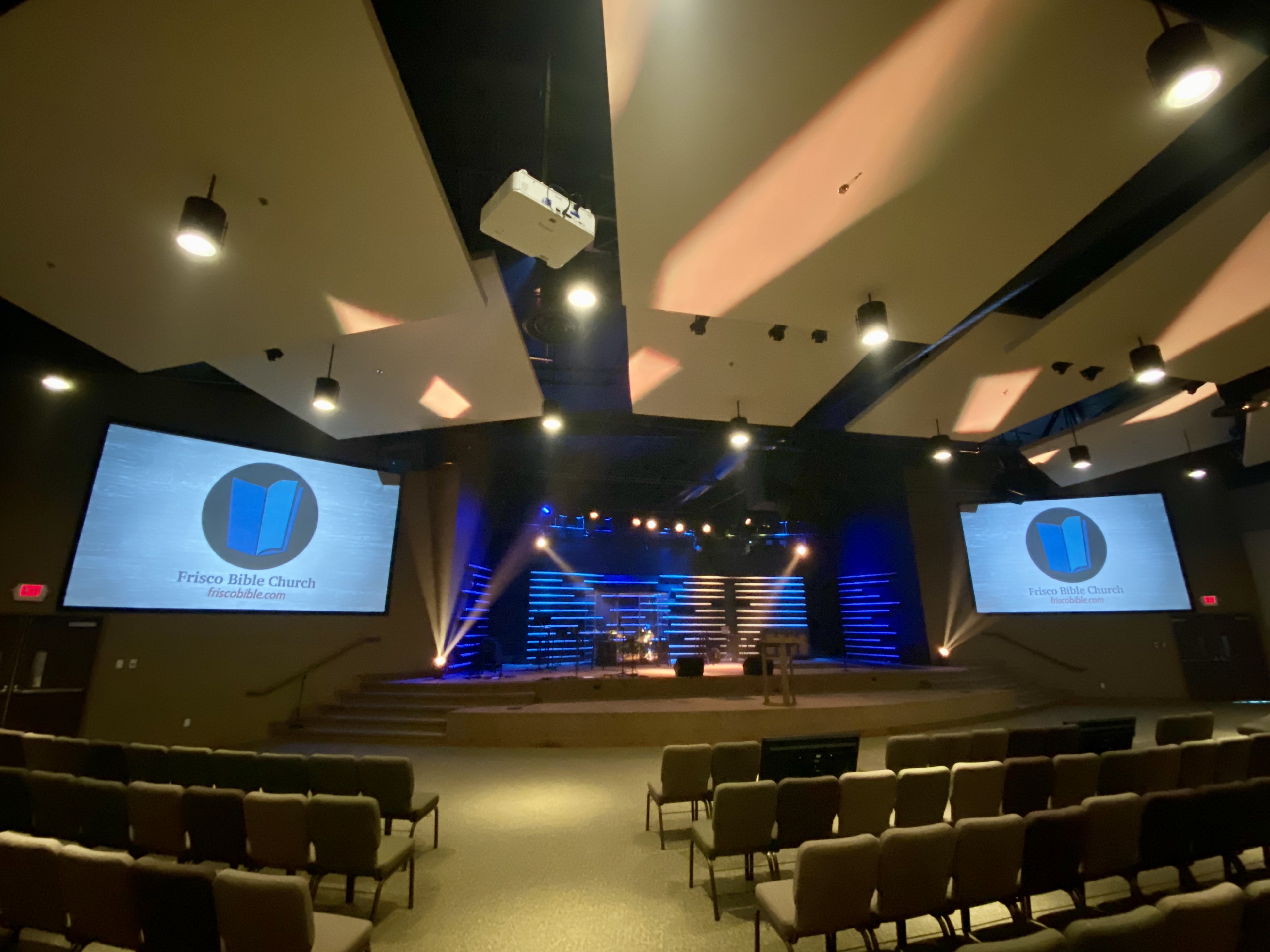 Frisco Bible Church in Frisco, Texas, is celebrating 25 years. Founded by Pastor Wayne Braudrick, the church started with a congregation of only five families at a time when the rural farm town's population was only 7,000. Since that time, Frisco has experienced a record-breaking boom and was the fastest-growing city in the United States in 2017. It now has a population of almost 180,000 with Frisco Bible Church serving 1,500 members.
"We have a small-town vibe and being close to Dallas — the home of the Cowboys and the National Soccer Museum — sports have heavily influenced and brought our community together," said Josh Chilton, Technical Arts Director for Frisco Bible Church. Frisco Bible Church lives by it's mission, "We are a redeemed community, doing the great commission, by the power of the Holy Spirit, for the glory of God." Through that mission, the worship and technical ministries create connections to reach the world.
In 2011, Frisco Bible Church moved into its current location. At that time, three standard lamp projectors where installed in the church's worship center to deliver lyrics, background imagery, sermon PowerPoints, and occasionally live video. The projectors' upkeep, however, was steep. The church had to replace the bulbs and filters annually. The church was spending almost $2,000 a year on replacement bulbs that slowly diminished over the course of the year, impacting services. The projectors' color wheels were also burning out after only 9 years of use, and the rear projector was no longer in operation.
"Financially, it didn't make sense for us to continue to try to put lamps in projectors that were aging and beginning to fail," said Chilton. "Instead we decided to invest that money as part of the cost for new projectors that wouldn't require all the expensive upkeep and would deliver a consistent picture that wouldn't diminish over time. People come to Frisco Bible to worship God, connect to community, grow in discipleship and serve others. That's hard to do when worship visuals are distracting."
The church didn't have to look far to find a knowledgeable resource who could guide and educate Chilton on what projector would best fit the worship center. Among the congregation was a BenQ sales representative, who pointed Chilton toward the company's LK952 4K Blue Core laser projectors.
"We trust the quality of BenQ after purchasing a few smaller BenQ classroom projectors a few years ago," Chilton said. "They deliver great quality for the price. Once we realized the LK952 would not only fit our needs, but also our budget, it was just an obvious decision for us. Plus, it provided the added benefit of 4K. We're not producing in 4K yet, but it gives us that option into the future without having to make a new investment in projection technology when we're ready."
Designed for the presentation rigors of the corporate world, the LK952 produces 4K 3840 x 2160 resolution with 8.3 million distinct pixels for each frame, achieving the Consumer Technology Association's UHD standard. It can handle a range of high-resolution content and generates 5,000 lumens of intense Blue Core laser-powered brightness for 20,000 hours of maintenance-free operation. This would eliminate the cost of lamps and filters as a line item in the church's budget. The projector also uses a 0.47" single-DMD DLP technology to deliver awe-inspiring clarity and crisply defined details, making it easier not only to experience great video quality but be able to read PowerPoint slides and lyrics on the screen even from the back of the 800-seat worship center. To ensure a superior picture, BenQ's cutting-edge 4K Image Amplifying Technology further enhances the quality of projected images, while Pixel Enhancer 4K motion-adaptive edge enhancement detects changes in the color between an object and its background to produce sharp edges and precise surface textures.
The projector also incorporates 360-degree rotation for projection onto ceilings, walls, floors or angled signage as well as horizontal and vertical lens shift. Lens shift was a vital feature for the church because when it was built, the display industry hadn't yet determined whether 16 x 9 or 16 x 10 aspect ratio would become the accepted standard. Frisco Bible Church opted for 16×10, which now requires them to use the lens shift to fill the two projection screens that flank the stage.
Since the installation, the LK952 projector has renewed the experience at Frisco Bible Church. Now, not only can they see every slide and image projected with bright, accurate color but also enjoy video such as recorded dramas and baptisms in clear detail that reinforces the message.
"Everything about the LK952 checked our boxes and then some," said Chilton. "We've only had them installed for three months and they've already made our services much more enjoyable. It's obvious that we're not done growing, but as we do and if 4K becomes our standard in the future, the BenQ projector will allow us to offer services that continue to reach our congregation."