Symetrix Appoints Standard Audio as Swedish Distributor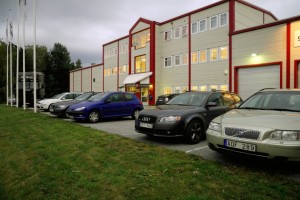 Leading digital signal processing specialist Symetrix has announced a substantial upgrade to its distribution arrangement for the fast-growing Swedish market. Effective immediately, Arlandastad-based Standard Audio will now serve as the company's exclusive distribution partner in Sweden and will spearhead sales for products including Jupiter, the line of fixed-architecture standalone DSPs, and SymNet, the range of open-architecture Dante scalable DSPs.
Established in its original incarnation of Rydin Elektroakustik nearly 50 years ago, Standard Audio is synonymous with pro-audio distribution in Sweden and represents many of the industry's leading brands, including Bosch, Community Loudspeakers, Electro-Voice, dB Technologies and Tannoy.
The company had previously distributed another eminent DSP specialist, but believes that the versatility and accessibility of the Symetrix range will help it to reach new customers. "Product ranges like Jupiter and SymNet are incredibly flexible, and the interfaces are a great improvement on some other leading brands out in the market. It is possible for them to be used by non-specialist people and that is a major advantage," says Roger Friberg, systems engineer at Standard Audio.
Workshops and public demonstrations of the Symetrix DSPs' capabilities are likely to feature in Standard Audio's plans as they build the brand in Sweden. "Amongst contractors Symetrix is already an increasingly well-known brand, but we believe that there is more that can be done to optimise its presence," adds Friberg, who anticipates healthy levels of interest for Symetrix solutions in applications such as retail, entertainment complexes and sports venues.
Welcoming Standard Audio to Symetrix' stable of exclusive distributors, international sales manager Mark Ullrich comments: "Standard Audio's five-decade track record of distributing high-end pro-audio brands in Sweden confirms that it has abundant expertise with which to take Symetrix to the next level in the country. Sales of both our fixed- and open-architecture DSP solutions have been strong in Northern Europe for many years now, but we have long believed that there are opportunities to expand our reach in established and emerging contractor markets."
"With Standard Audio, we are confident that we have found a partner for the long-term and look forward to many years of successful collaboration," Ullrich concludes.