Symetrix Announces Sisme as New Italian Distributor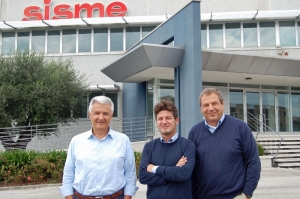 In a development that confirms the ever-rising profile of the Symetrix brand across Europe, Sisme – whose history stretches back to 1967 – will today assume exclusive distribution responsibilities for the prominent DSP brand throughout Italy.
Beginning operations with a focus on the MI market, Sisme has evolved to place its greatest emphasis on the pro-audio and integration sectors. Today its distribution portfolio includes some of the biggest brands in the business – including Audio-Technica, Aviom, Clear-Com, HK Audio, L-Acoustics and Powersoft – while its overall offer was strengthened considerably in 2003 by the opening of a new state-of-the-art facility situated on the central eastern coast of Italy.
"With this facility, we have all the functions for logistics, administration, accounting and more under one roof. It has really made a difference in the way that we are able to support our brands throughout the Italian market," says Sisme CEO Claudio Bugari. "We are also continuing to develop our website with a wealth of technical information and materials, provided in Italian as not too many people in this market speak English. We take the time and trouble to ensure that they can access as much detail as possible, and we are in no doubt that this has really benefited our many pro-audio brands."
Now this expertise and resource-base will be brought to bear on Symetrix. For small-to-medium sized applications, Bugari and team predict a positive reaction to Symetrix Jupiter, the fixed architecture app-based DSP that was specifically designed to save integration partners and their customers time and money. Then, for more ambitious projects where flexibility is an even greater priority, the SymNet Radius 12×8 open architecture Dante-scalable DSP is expected to resonate with potential customers from Milan to Messina.
"It is a brilliant and diverse range of products, and the most important point in the early stages of our work with the Symetrix brand will be to increase awareness across Italy," says Bugari. "Therefore we are planning presentations, seminars and webinars, as well as project references for our website. A lot of people will know the brand already, but might not be aware quite how suitable its products are for a wide variety of projects. It is our task in these early months to inform them."
Mark Ullrich, international sales manager for Symetrix, said that he welcomed the beginning of a long and successful relationship with Sisme. "Possessing a remarkable heritage of nearly 50 years, Sisme is well equipped to take the Symetrix brand forward in the Italian market," says Ullrich. "Symetrix takes its place as part of an already highly advanced distribution portfolio, and I am confident that Sisme's expertise and enthusiasm will ensure strong sales growth across the range."