Soundcraft by HARMAN Vi Series Digital Mixing Consoles Lead India's Pro Audio Industry to New Heights
Soundcraft Vi Series large-format digital mixing consoles continue to experience widespread acclaim with leading venues, mixing engineers and rental houses in India's growing live entertainment industry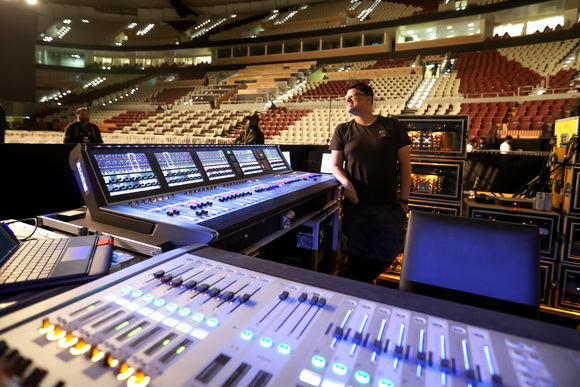 MUMBAI, India—HARMAN Professional Solutions, the global leader in audio, video, lighting and control systems, today announced that Soundcraft by HARMAN Vi Series digital mixing consoles have established a significant footprint in India's pro audio market with continued growth thanks to organic word of mouth throughout the industry.
The Soundcraft Vi Series is a family of large-format digital mixing consoles that offers audio engineers intuitive control over as many as 128 inputs and 32 auxiliary busses. Vi Series consoles are popular choices among audio professionals in a wide range of audio applications, including pro tours, performing arts theaters, houses of worship, stadiums, live broadcast and more. One of most unique features of the Vi Series is its Studer Vistonics touch screen interface, which makes it easy to manage complex mixing jobs with unmatched simplicity. In addition to their intuitive workflow, Vi Series consoles are constructed with a sturdy aluminum chassis to hold up to rigorous use by world-class mix engineers, touring acts, rental companies, music festivals, top venues and more.
"Because of their legendary audio quality, intuitive workflow and extended feature sets available on all models, Soundcraft Vi Series digital consoles have become a mainstay for leading touring and rental companies throughout the world," said Prashant Govindan, Senior Director, HARMAN Professional Solutions, India & SAARC. "With the release of the second generation of Vi Series consoles, we have seen more and more users choosing them for their main FOH and monitor consoles across a wide range of genres and venue types. Another contributing factor to the success of the Vi Series is the quality of training, support and service HARMAN has extended to customers and partners in the region. I am personally thrilled to be part of the team that accomplished this milestone in India's emerging market. We thank all HARMAN customers including rental houses, professional mix engineers and loyal supporters."
Soundcraft Vi Series consoles have earned a special place in the inventories of industry professionals thanks to their renowned user-friendly controls and intuitive operation. The Vi Series' unrivaled integration of touchscreen control is one of the most commonly cited reasons a growing number of audio engineers and technicians throughout the industry are relying on Vi Series consoles.
"Soundcraft Vi7000 and Vi6 consoles have been in our arsenal for more than a decade," said Manish Mavani, Director, Sound & Light Professional. "We are proud to have one of the largest inventories of Vi consoles in India, backed by great product reliability and exceptional customer service from HARMAN."
"We've had an extraordinary experience with Soundcraft Vi1 consoles," said Navneet Wadhwa, Director, Audio Design. "We appreciate the console's workflow and ease of use."
"The Soundcraft Vi3000 is a great mixing board for big corporate gigs and live concerts," said Santana Davis, Managing Director & Chief Sound Engineer, J Davis Pro Sound & Lighting. "The Vi3000 is efficiently designed with comprehensive I/O and provides Dante/MADI functionality, the ability to use UAD & Waves plugins and reliability thanks to redundant power supplies."
"I started my digital audio career mixing front-of-house on the Soundcraft Vi3000," said Vijay Dayal, Sound Engineer, Yashraj Studios & FOH Engineer, Ajay-Atul. "I used to rely on analog consoles exclusively, until I was pushed by a mentor to make the shift to digital before getting left behind. After experiencing the benefits of mixing a massive amount of inputs on the Vi3000 with plenty of headroom, I was sold. What I like about Vi Series consoles is that they give you the sound quality of analog with the convenience of digital. I also appreciate the Vistonics interface, which makes it feel like you're interacting with analog knobs and can see everything you're doing. I'm currently enjoying the unlimited possibilities and expansive freedom of the Vi7000."
"The Vi3000 is one of the best monitor mixing consoles on the market—it captures the moment perfectly," said Purvaze Buxy, Director, Vibrations Unlimited & FOH Engineer, Armaan Malik. "It provides superior sound quality through its advanced engineering, the preamps sound great and its feature set is incredible. You'd be hard pressed to find a better value for your money."
"I started touring 17 years ago, and after using a wide range of digital consoles, I can say the Soundcraft Vi Series is my favorite and I love using Vi consoles," said Sunny M.R., Producer & FOH Engineer, Arijit Singh. "The layout is simple and everything is right in front of my eyes—soundcheck is a breeze with these consoles! On Arijit's current tour, we have over 200 inputs, so we use Vi7000 and a Vi3000 consoles for front-of-house and monitor mixing. The Vi Series consoles help me handle each gig smoothly. HiQNet remote control makes it easy for me to adjust the sound while physically walking around the venue. The onboard recording and plugin processing is phenomenal—I record a total of 128 tracks for each performance. I also use a lot of analog outboard gear, so I love that the Vi consoles offer an alternate input switch on each channel if I need to change to the direct stage input as a backup during a hardware malfunction."
"What I love about the Soundcraft Vi Series is that it lets me use the 'walk up and mix' method," said Johnston D'Souza, FOH Engineer, Kabir Café, Alien Chutney. "The interface is straight-forward and simple to understand. You can always see everything you need to know about each channel. Additionally, the Vi Series gate and compressor are both really smooth and transparent."
"We recently purchased Soundcraft Vi3000 consoles to teach our students how to practice efficient workflow in the live sound industry," said Dilip Achtani, Associate Director, Seamless Education Academy. "The students found it easy to operate and they love the Vi3000's combination of a simple layout with advanced features like Vistonics touchscreens and Soundcraft Realtime Rack."
For more information, please visit www.soundcraft.com