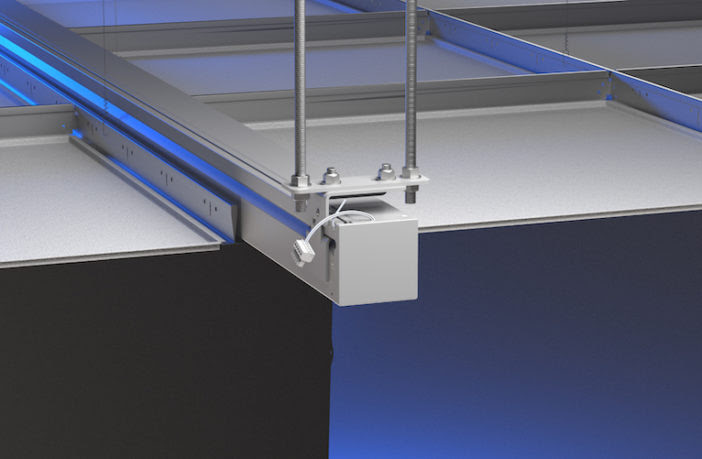 Screen Innovations (SI) has introduced a new mounting system that accommodates the lightweight, compact form factor of SI's Solo and Solo Pro motorized screens. The Solo Suspended Ceiling Mount System preserves the room's aesthetic through a design-focused mounting solution that eliminates visible technology and mounting hardware.
The new Solo Suspended Ceiling Mount System follows the latest lighting and air handling trends, allowing the world's smallest low-voltage motorized screen cassette to be mounted flush with the ceiling grid. Using the grid as the screen reveal eliminates the need for visible flush-mount trim and allows integrators to take advantage of the compact and lightweight cassette design of Solo and Solo Pro. The new Suspended Ceiling Mount System utilizes a standard threaded rod to mount the brackets to the structure above. The cassette remains completely hidden from view and the screen descends into the room through a thin opening.
Like all other ceiling grid-mounted products, installation is straightforward and fast, utilizing all industry-standard hardware and tools. This allows specifiers to follow standard suspended ceiling mount planning and implementation.
Today's power and two-way control options for Solo and Solo Pro are state-of-the-art and don't require an electrician in many states, even above ceilings. Low-voltage wire can be run up to 300 feet using a standard category cable or two-conductor wire. By adding Fontus, a recent invention of SI, integrators can enable full 485, two-way communication over a two-conductor wire, allowing Solo to seamlessly integrate with most major control systems from manufacturers including Crestron, Lutron, and AMX. If wiring is not an option, the screen can be powered by lithium rechargeable batteries for a wireless installation.
"At SI, design and beauty are number one. Solo is a key example of a new chapter in design-forward motorized projection screens. We feel that by following the designs of the latest LED lighting and modern air handling systems, we give designers exactly what a motorized screen should look like in a commercial environment using Solo and the new Suspended Ceiling Mount System. This new concept of hiding Solo above the ceiling tiles while using the ceiling grid for the reveal is the cleanest look possible," says SI CEO Ryan Gustafson. "We listen to our dealer's feedback, then we invent."
Solo is the smallest, most versatile projection screen on the market. Its small size and custom color options make it disappear when surface- or flush-mounted. For example, Solo can be mounted to window mullions so when the screen descends it covers the windows. By specifying SI's latest ambient light rejecting material, Slate, the image retains full clarity and vibrancy even during the middle of the day. Slate is 100% opaque, rendering a perfect image from the latest projectors. When the Slate ascends and the windows are now longer covered, users can enjoy a full unobstructed view of the outdoors.
The Solo Suspended Ceiling System is available now in all Solo and Solo Pro sizes. For more information about the Suspended Ceiling Mount System and other innovative SI shade and screen solutions, visit screeninnovations.com.