Ross Video: What's New at IBC 2014
Since last IBC, Ross has expanded dramatically with 4 corporate acquisitions in the areas of routing, news and prompting software, augmented reality and mobile production and a wide array of new production focused products and services as well as the addition of almost 100 new employees. This IBC, Ross is celebrating its 40th anniversary, sporting a new look with a modernized corporate logo and the updated tagline: "Production Technology Experts". Following is a brief outline of just some of the things to expect from Ross on the stand at IBC in September – and as always, there will be a few last minute surprises announced closer to show time.
openTruck™ – Next Generation Mobile Production
openTruck™ brings innovation to mobile production by providing a standardized yet customizable way to design a new generation of cost-effective remote-production vehicles that deliver the highest quality video and audio content from sports and other live events. A mobile production vehicle, built to the openTruck specifications will be front and center on the Ross stand at IBC.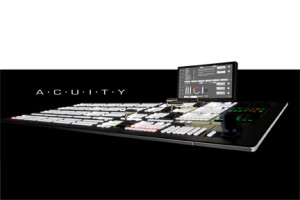 Acuity – Breakthrough High End Production Switching
Introduced at NAB 2014 and now fully released and shipping, the Acuity production switcher is the latest large production switcher platform. It delivers fast, efficient and error-free production for all formats including UHD (4K) and is ergonomically perfect and stunningly beautiful. The culmination of 40-years' production switcher design experience, Acuity combines seemingly limitless production power with aesthetic beauty and unprecedented connectivity. No matter what your vision is for the future of your production facility, Acuity will help you lead the way.
Carbonite – The World's Most Popular Mid-Sized Production Switcher
The award-winning Carbonite production switcher now has more choice and flexibility than ever before with 3G and Advanced UHD (4K) production shipping on new systems and also available to all Carbonite customers through free software upgrades. These features enable Carbonite to be switched to 3G (1080P 50 or 60 (59.94)) and open the door to the very latest production format: UHDTV (4K) – a capability used by Globosat, Brazil in the recent FIFA World Cup.
Another unexpected free software upgrade to Carbonite is 2.5 ME operation, with two new 3 ME panels available to provide direct access to this additional horsepower—the 3S and 3X— bringing the total number of Carbonite control panel choices to nine.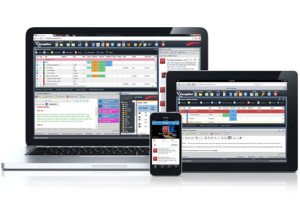 Inception – The Modern Newsroom Computer System
Inception is "the new kid in town" in newsroom editorial systems and has made a big impression since its introduction last IBC, winning major industry awards for the innovative approach it takes to creating multi-platform content. Inception enables your operation to truly embrace social media and the web – making them equal partners alongside your linear channel in your content creation efforts. Designed to handle the modern needs of News, Sports and Entertainment production, Inception is a must see at IBC this year.
Inception Social – Social Media Management Made Easy
Inception Social is a social media management system that can either work standalone or can be "plugged in" to an existing newsroom computer system. In addition to news environments, Inception Social has found a place in live event social media management for entertainment productions and sports where it provides a tight link between audience feedback (tweets, polls and pictures) and live on-air production graphics.
XPression – The New Standard in Real-Time Motion Graphics
XPression keeps getting more powerful and flexible with solutions that meet virtually every type of onscreen live graphics need—from character generation to virtual sets and augmented reality. XPression has added Visual Scripting, making the creation of dynamic, data-driven graphics much faster and easier. Visual Scripting complements XPressions powerful scripting capability with an intuitive drag and drop operator user interface eliminating the need to write programming scripts in most cases.
A few more new solutions planned for the XPression family at IBC this year include:
XPression Tick-it and Tick-it Solo: Next-generation ticker systems with collaborative browser-based data entry and scheduling.
XPression Brand-it: Multi-channel automated branding workflow server for program lineups, snipes and more.
XPression Studio and BlueBox GO!: Powerful XPression solutions for Thunderbolt™ laptops.
Ross Virtual Solutions – Great Looking Virtual and Augmented Reality
Ross Virtual Solutions will be demonstrating The Studio of the Future – Available Today, a turnkey solution that makes it easy to quickly deploy a virtual set or add augmented reality elements to an existing set. Ross Video is the only company in the broadcast industry that's able to offer a single-vendor turnkey AR/VS studio solution, including the equipment you need as well as design services for virtual sets, virtual set extensions, and augmented reality 3D design elements. Stop by and see a demo of what the state-of-the-art studio of the future looks like.
Furio RC and Furio Robo – Advanced Track Based Robotic Camera Systems
Ross Video's rail-based remote-control camera system, Furio RC, has a new control option that makes controlling the Furio similar to controlling a manual camera. The Furio Panbar controller has a fluid head for pan, tilt, zoom and focus, and foot pedals for dolly and lift, making it easier to get those dramatic production shots the Furio RC is famous for. A new collision avoidance option enables two Furio Robo Systems to safely share a single track, maximizing flexibility and the ability to attain the best camera shots.
OverDrive Caprica – Automated Production
OverDrive, the worlds most popular system for automating news production is now shipping with a new version called OverDrive Caprica which adds support for 3rd party (non-Ross) production switchers. This allows customers with installed legacy production switchers to make the move to automation without having to replace their production switcher.
MC1 – The Affordable Master Control Solution
The MC1 simple, robust and affordable Master Control System has added an optional physical control panel that is fully customizable and supports scalable multi-channel operations. The MC1 System is now also available as a standalone openGear module for channel branding and emergency alert system insertion.
openGear 3.0 – The World's Only Open Terminal Equipment Platform
Ross will be demonstrating the openGear 3.0 frame, this third generation open frame standard offers increased density, power, cooling and advanced network control while maintaining backward compatibility with previous generation openGear cards. Earlier this year, the openGear ecosystem passed 60 partner companies continuing to broaden the range of available openGear compliant solutions.
Ross openGear portfolio has added a 3G advanced VANC data processor with support for SCTE 104 Digital Program Insertion (DPI); a 3G A/V Frame Synchronizer with audio embedding/de-embedding capabilities; and a fiber optic 3G A/V Frame Synchronizer with audio embedding/ de-embedding support making it ideal for mixed format Electrical / Optical Installations.
SRG-4400 Master Sync and Reference Generator
New since last IBC is the SRG-4400 Master Sync and Reference, a state of the art master reference and 3G/HD/SD SDI test signal generator designed for performance and reliability. With front swappable redundant power supplies and an optional auto changeover unit, the SRG-4400 provides the features and reliability needed in a modern facility timing system.
NK Series Routing Systems
New in NK Series Routing includes customer definable DashBoard-based soft panels – making router control available from any computer. These CustomPanels can combine control of a variety of Ross and 3rd party equipment at the same time – streamlining user operation.
Nielsen Watermarks – Audience Measurement Systems
Ross is Nielsen's partner in providing and supporting the equipment needed by broadcasters to insert Nielsen Watermarks for audience measurement. Ross now offers the NWE-TS which can watermark signals in the compressed domain. The NWE-TS accepts ATSC ASI transport streams and will watermark up to 10 channels simultaneously.
Black Storm – Video Clip Player
At IBC this year, BlackStorm adds support for Avid's DNxHD codec offering smoother workflow for Avid-centric environments.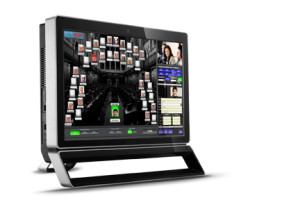 DashBoard – Facility Control and Monitoring
DashBoard is Ross' Facility Control and Monitoring System and is available for free download from the Ross Video website. DashBoard 6.2, now in beta, will launch at IBC and includes some big upgrades to the system including a more sophisticated version of the popular PanelBuilder feature. PanelBuilder allows the easy creation of customized touch screen control panels that can take a complex operation and make it simple for the operator. PanelBuilder can include individual buttons, sliders and indicators from any openGear, DashBoard Connect and Ross Video product as well as a number of 3rd party devices – combining these with scripting intelligence in powerful and unique ways.