River Oaks Upgrades to Yamaha CL5 Digital
The 600-seat River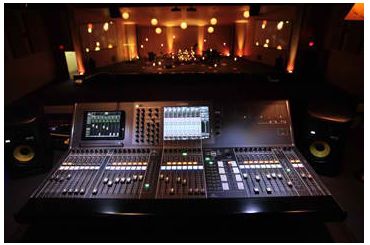 Oaks Community Church, in Goshen, Indiana, holds contemporary worship services, and on any given Sunday, serves 1,200 of its congregation. With a rotating pool of 25 musicians, a standard worship service consists of 5-10 members on stage. The church recently retired its aged analog console and upgraded to a new Yamaha CL5 digital audio console and Rio 3224-D and 1608-D input/output boxes, purchased from Mid-America Sound in Greenfield, Indiana.
"We had an analog console for about ten years that outlived its welcome", states Tim Blaum, Program Director at the church and who installed the CL. "We realized we needed to have additional control and mixing space."
Blaum notes that on occasion, the church had to rent a Yamaha M7CL for outdoor gigs or other special services when they needed a little extra control. "We have a volunteer team that is comfortable in the analog environment using a full bank of physical faders because it's what we've been used to, but we knew it was time to upgrade to digital. Several industry professionals recommended we investigate the new Yamaha CL Series since it has several added benefits. After weighing our options, we heeded their advice and decided to go with the CL5 because of its power and features."
Prior to the new CL's arrival, volunteers viewed online tutorial videos, having been familiar with the M7CL. "Yamaha digital consoles have always been strong and reliable, and with the CL's price point, the console will give us room to grow and expand our worship ministry," Blaum says. "Talented musicians with years of training and skill lead our ministry, and our production team is eager to help them sound the best they can with our new desk." The church is currently using the Dante network locally due to its pre-existing snake structure.
Blaum also said the front of house location is an elevated mezzanine, which makes mixing difficult. "We are living by the console's iPad App; our engineers stay on ground level during rehearsals and worship to make sure our mix is perfect. The labeling on the CL was a major enhancement, but we really love just about every feature it has since we came directly from the analog world. The console sounds great, and since its installation, we've had numerous compliments about our mix greatly improving. No doubt, this is an exciting step forward for us."
For more information on River Oaks Community Church, visit www.riveroaks.org
For more information on Mid-America Sound, visit www.midamericasound.com
For more information on the Yamaha CL Digital Audio Console, visit www.yamahaca.com