Revolabs Products on Display at Enterprise Connect 2013
Booth 1722
February 21, 2013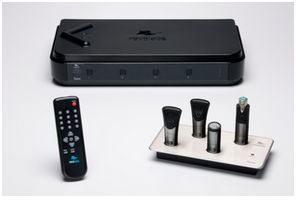 Revolabs Fusion™ Four- or Eight-Channel Wireless Audio Solution
Available with four or eight microphones, the Revolabs Fusion™ wireless microphone system provides a complete solution for mid- to large-size conference rooms. The system packs a wireless receiver, digital signal processor, and audio mixer — in addition to Acoustic Echo Cancellation and Noise Reduction technologies — in one cost-effective unit. Offering simple set-up, the Fusion provides all connectors for speakers and amplifiers in the room, and can be directly connected to virtually any video conferencing solution, making it the ideal wireless unified communication solution. Providing a hybrid telephone, the system can also be plugged into an analog telephone line or desktop phone for unmatched audio quality on conference calls. Its tabletop wireless dialer allows calls to be set up from anywhere in the room.
The Fusion can be mixed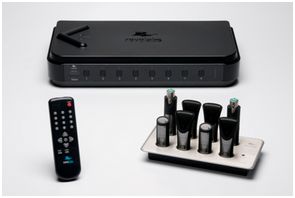 and matched with a variety of wireless microphones, including a lapel microphone worn by one person, an omnidirectional tabletop microphone that captures the sound of six to 10 participants, and a directional tabletop microphone that enables audio capture from two to three people. In addition, the systems can be used with the XLR adaptor for handheld microphones. All Revolabs wireless microphones are rechargeable — providing up to eight hours of talk time on a full charge — and feature field-replaceable batteries. In addition, RF Armor™ technology enables the microphones to operate even when in direct contact with other wireless electronic devices known to cause unwanted audio interference, such as GSM mobile phones and smartphones. The solution's 128-bit encryption ensures that meetings will remain private.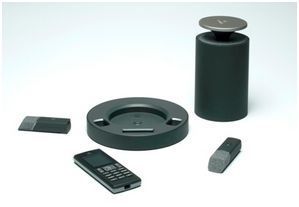 Revolabs FLX™ Wireless Conference Phone
Ideal for conference rooms, executive offices, and small office/home office (SoHo) environments, the Revolabs FLX™ wireless conference phone is now offered either with an analog telephone interface or with a VoIP interface. The FLX VoIP is the first and only wireless conference phone designed for VoIP networks. The FLX VoIP integrates directly with most IP telephone switches following the SIP standard, enabling new features only available through digital switch environments, such as voicemail alerts and "do not disturb." The unit can also serve as the audio interface for virtually any major brand of video conferencing equipment, making it ideal for unified communications in any environment.
The FLX is the recipient of numerous industry awards. In 2011, the wireless conference phone received a Product of the Year Award and Unified Communications Product of the Year Award from INTERNET TELEPHONY magazine, in addition to a Communications Solutions Product of the Year Award. In 2012, the FLX was honored with a SCN/InfoComm Installation Product Award in the category of Most Innovative Audio/Videoconferencing Product, and Commercial Integrator BEST Award in the category of Best A/V Over IP System.
www.revolabs.com