Revive the Sound Of Your Worship Team With the Yamaha CP-88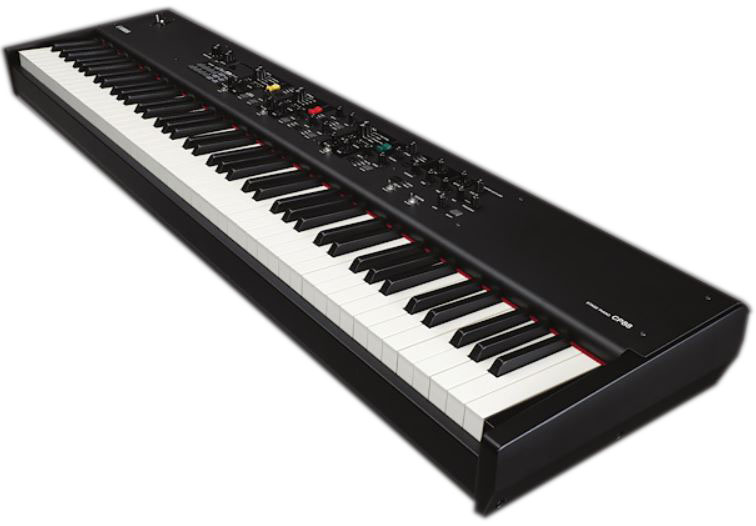 Like every product I review, I like to take it out of the box and see what I can do before I read the instructions. To be completely honest with you… the Yamaha CP-88 blew me away. It does everything you need in a worship setting. I'm no stranger to previous versions of the CP-88 (like the Stage Piano CP-33), but this one has some amazing features that are completely intuitive
to use and easy to create layered textures that make this keyboard a serious contender for modern worship teams. I found myself going… wow I can do this… and oh I can do that… and I can layer this synth pad… and that distorted keyboard sound I just spent $ 50.00 to buy can be created by hitting this button and wow… I can… well you get the idea. I also LOVED the feel of the keys. I own a Young Chang 7 foot grand piano and it sounds great. But I also love the natural acoustic sound of the CP-88. Yamaha is the leader in creating an experience for keyboard players that reproduces the sound and feel of playing an acoustic piano. It allows me as an artist to dig into the dynamic nuances of emotion that pianos are known to produce. This keyboard had my creative juices flowing immediately and that rarely happens for me.
A SOUND DESIGN STATION
First I should go through the sound layout. It's divided into 3 sections marked Piano, E Piano and Sub. Each section has it's own volume and tone control so you can create your own unique blend of sounds. Each section lets you choose what octave you want to play in and gives you a 5-octave spread to choose from. Each section has it's own effects that are slightly different in each section. For instance, the piano section has a choice of compression, distortion, drive or chorus. Although you can't use all the effects at once, you can use them very effectively to create the popular distorted or highly compressed piano sound that appears on the most popular worship recordings today. The 3 concert grand pianos that are featured in the CP-88 are the Yamaha CFX, Yamaha S700 and the Bosendorfer Imperial 290. For those who don't know what a Bosendorfer Piano is, think Let It Be by the Beatles. One of the best recorded piano sounds in the world at your fingertips. It also features 2 upright pianos… the Yamaha U1 and the Yamaha SU7 as well as the CP-80 (think Hall and Oates) and their popular Piano/ Strings or Piano/Synth patches. Yamaha has a long tradition of providing one of the most realistic "live" piano sounds in an electronic keyboard. My favorite sounds were the concert grands, especially the Bosendorfer and the Piano/Synth patch. The Piano/Synth has that warm analog synth of the Spirit sound.
The second section is the E Piano Section. You can select from 4 banks of sounds… The Fender Rhodes sound, the Wurlitzer, the Clavinet and the classic Yamaha DX sounds. Under each bank of sound are anywhere from 2 to 6 choices of patches… My favorites were the Rhodes and the classic DX sounds. But here is what makes this more than just a keyboard but an on the fly sound design workstation… the effects section. You can select between 6 effects… Auto Pan, Tremolo, Ring Modulator, a Wah effect that is tied into your playing dynamics, a Wah effect that is tied into an expression pedal or a stereo compressor. You can also add chorus, flange and a phase shifter. Lots of options to shape your sound "live."
OVERALL CUSTOMIZATION
Let's say you get the perfect blend of sounds but it still needs something. You can EQ the entire sound you've created. You can also add delay or reverb to one or all sections and in the delay section you can choose between analog or digital delay. Here's another cool part… you can save up to 160 custom sounds for performance (20 banks of 8 sounds). It comes with 88 factory programmed sounds. You can also back them up to a USB flash drive for safe keeping. For those who like to carry your custom sounds in your laptop and play them through Main Stage or Ableton Live, you can connect any laptop to the CP-88 via USB. I'm in this category since I already spent a small fortune on sounds. There are just a few steps to follow such as using a USB 2.0 cable, not a 3.0 cable, plugging in the computer before you turn on the keyboard and only open the application you are using, don't have other applications open.
FUTURE TECHNOLOGY?
The Yamaha CP-88 comes with the ability to add new sounds. In fact, the newest content pack contains a vintage 1967 tine electric piano, a new "character-rich" reed electric piano and a classic Yamaha C7 piano which is one of the most recorded piano sounds in the world. Yamaha is also encouraging innovators to share their sounds for FREE through the Soundmondo.com website.
Now there are a couple of design features that I absolutely love. I love the fact that there are no wheels on the keyboard. There is a pole/stick that operates like a wheel, but much more responsive. I also love the fact that you can plug a xlr cable directly into the keyboard without a direct box. I would suggest using an xlr cable with a 90° end so the cable hangs down.
THE BOTTOM LINE IS… DO I RECOMMEND THE YAMAHA CP-88?
So here's full disclosure. I've been looking to purchase another keyboard. It's a brand that is super popular right now. It's in all the major worship videos on YouTube. It's an attractive red color. But it retails around $ 4500.00. I recently played an event where I had the opportunity to use the pretty red keyboard and honestly, I had a hard time getting what I needed. It had a great piano sound, but it was not intuitive and difficult to find the kind of sounds I was looking for. However, the Yamaha CP-88 was easy to use, sounded better for my purposes and felt great to play. Plus the retail for the CP-88 is only around $ 2500.00. As a result this review my purchasing decision has been made. I need a Yamaha CP-88.
HOLLAND DAVIS IS A TEACHING PASTOR, VETERAN WORSHIP LEADER, COMPOSER OF THE AWARD WINNING SONG LET IT RISE AND THE AUTHOR OF A BOOK ENTITLED "LET IT RISE: A MANUAL FOR WORSHIP." HE IS THE SENIOR PASTOR OF CALVARY CHAPEL SAN CLEMENTE AND CEO OF WORSHIPSONG.COM. YOU CAN FOLLOW HIM ON TWITTER OR INSTAGRAM @HOLLANDDAVIS