Produce High Quality Weekly Content to Keep Your Congregation Updated  & Engaged with "One Button Studio"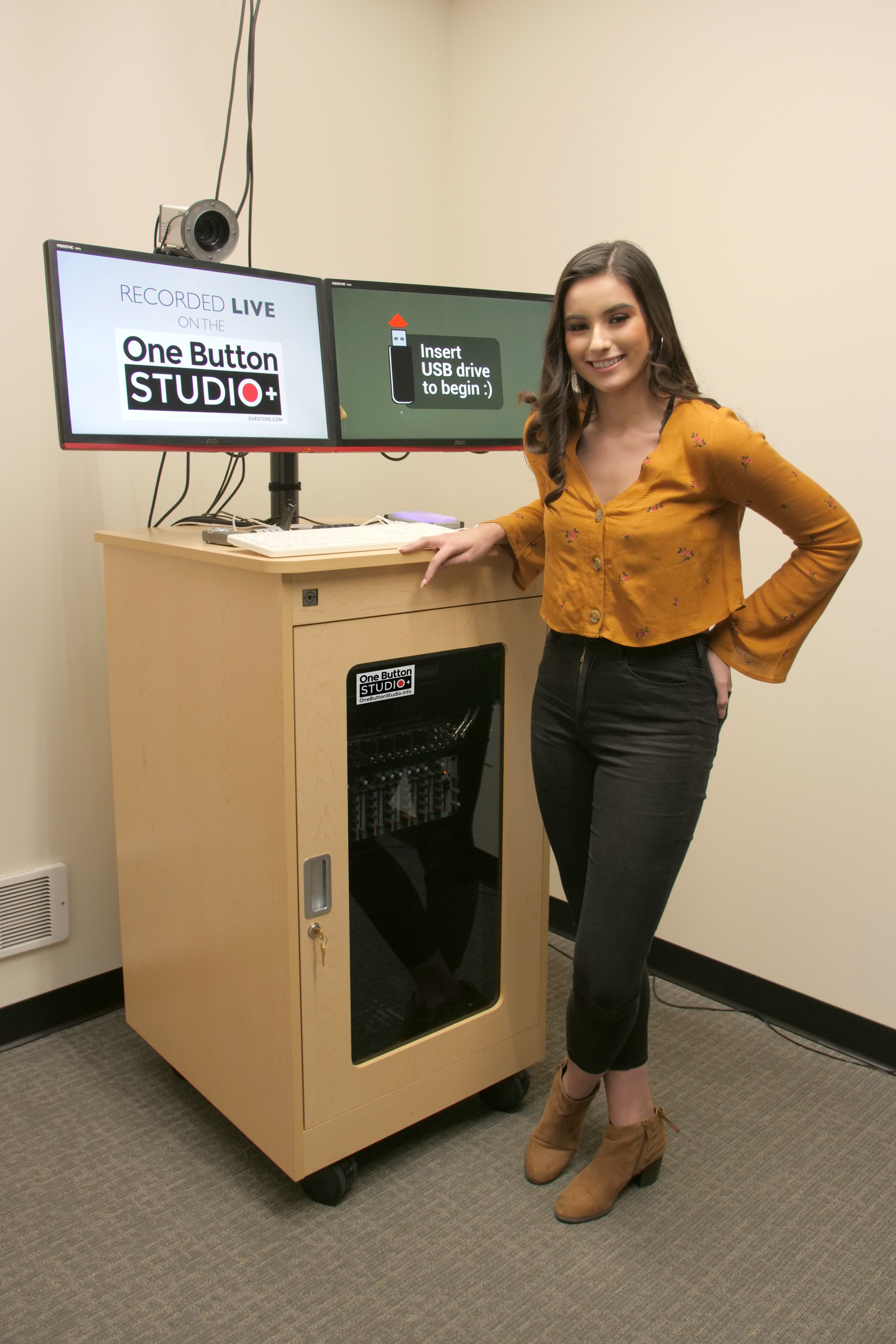 If you are short-staffed and relying on volunteers, it can be tough to produce high quality, weekly content to keep your congregation updated and engaged. Not every house of worship has the budget for a full-time video producer. Now, for a fraction of the cost, you have the option of automating your video production with the One Button Studio.
Each One Button Studio kit comes 90% assembled and includes everything you need to turn a small room into an automated recording studio. We're talking lights, microphone, camera, monitors & capture hardware. Yet, it's so simple to use, you don't need to know anything about video production.
Installation is simple too, because we designed this kit to integrate easily into a small office space or conference room. We include hardware for mounting the lights and microphone to a typical drop-ceiling. And the whole system operates on a single power outlet, so there is no need to call in an electrician.
Imagine walking into a room with a PowerPoint and a thumb drive, then walking out fifteen minutes later with a completely finished video. This is the power of the One Button Studio! (+Plus version required for presentation integration.)
The One Button Studio allows you to create professional video content, without the cost of a professional video producer. We have nothing against professional video producers. In fact, we are professional video producers who developed a system to help those that aren't. We cringe when we see a video with bad lighting and bad audio. Our goal with the One Button Studio is to take the pain out of video production.
The heart of the One Button Studio kit is a professional A/V cart with rack-mounted components. Powered by Apple's Mac Mini, the One Button Studio streamlines and automates the video production process, allowing the user to walk away with a completely finished video. No editing required!
Our best kit, the One Button Studio+Plus, gives the user the option to pick from three different chroma key backgrounds, two watermarks, and three different positions for PowerPoint integration––all handled through a simple control panel interface. It's never been faster or easier to produce high quality video content!
The One Button Studio is a great solution for any organization that wants to create regular video content, but may not have the necessary technical training or video production staff.
Use cases include the following:
● House of Worship; weekly content
● Education; student & faculty presentations, eLearning production
● Business; sales training, state-of-the-company addresses
For more information, go to https://onebuttonstudio.info
DVEstore Inc. is now shipping their One Button Studio kits! Better video starts here. DVEStore.com