New Flagship 300W LED Moving Head Spot Added To ADJ Focus Series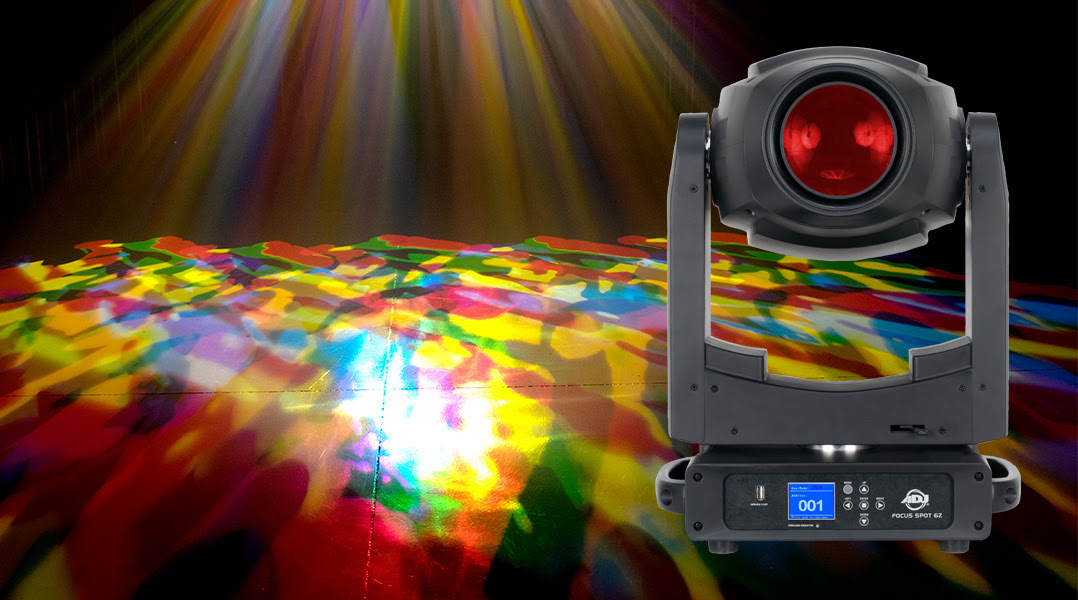 The Focus Spot 6Z harnesses the power of the latest LED technology, featuring a potent 300W cool white LED engine that offers a 50,000-hour operational life. This is paired with a precision-engineered, high-quality optical system to deliver extremely punchy output, allowing for sharp aerial effects and crisp GOBO projections. Offering 50% more LED power than the 200W Focus Spot 4Z and 5Z models, the 6Z has an output of 10,500+ lumens, which represents a significant step up for the Focus Series.
In addition to enormous brightness, the Focus Spot 6Z is also the most feature-packed model in the range. It offers a diverse collection of beam-shaping tools designed to give lighting designers a huge amount of creative potential. This versatility makes it ideal for rental and event production as well as for installation in venues such as large churches and multipurpose venues where the lighting requirements can change from week-to-week or month-to-month.
The signature feature of the Focus Series is motorized focus, which the Focus Spot 6Z combines with motorized zoom to offer a variable beam angle range of between 9 and 28-degrees. The fixture also includes a motorized iris function, which allows precise control over the size of the spot. In addition, the unit incorporates two frost filter options. The light frost is ideal for taking the hard edge off an open spot or to soft-focus a GOBO, applying a lightly blurred effect while maintaining the integrity and shape of the pattern. Meanwhile, the heavy frost can be used to create a wash-style output.
Two independent color wheels each provide seven dichroic color options plus open white. The first wheel features vibrant saturated colors, while the second combines subtle pastel shades with useful UV, CTO and CTB filters. The latter two can be used in conjunction with the heavy frost filter to generate color-corrected washes. This means that the flexible Focus Spot 6Z can serve not only as a moving head spot but also as a stage wash, when required.
The fixture incorporates a pair of independent GOBO wheels, each featuring seven slots for replaceable, indexed rotating GOBOs. A morphing feature allows for smooth transitions between a pattern on one wheel and a different pattern on the other wheel and both wheels feature a GOBO shake effect. The two wheels can also be layered, with independent control of rotation speed and direction, which allows dynamic effects to be created that mimic an animation wheel. A four color dichroic glass GOBO is also supplied with the unit, which can be used to generate multicolored effects from a single fixture.
Digital dimming allows for precise control of the output as well as smooth fades in and out. The unit offers a choice of six different dimming curve modes (standard, stage, stage 2, TV, architectural and theatre), allowing for customization of the fixture for various applications and also a lighting designer's personal preference.
A pair of indexed rotating prisms complete the Focus Spot 6Z's impressive line-up of beam manipulation features. Both the 6-facet circular and 6-facet linear prism can be used to multiply the selected GOBO, generating widespread and complex moving patterns that can be used to create mid-air beam effects or mesmerizing surface projections.
The unit is fan-cooled to ensure its light source and internal components are maintained at an optimum operating temperature. However, for theatrical applications, it offers a Silent Fan mode. This can be engaged remotely via DMX and will dim the LED to approximately 70% of its full output allowing the fans to slow to a speed at which they become virtually silent. This allows a lighting designer to switch to Silent Mode for quiet moments during a production and then switch back to normal fan operation to utilize the fixture's full output potential for louder sections where fan noise won't be noticeable.
A large color LCD screen on the front of the unit, with six corresponding push buttons, allows for easy and intuitive DMX addressing as well as configuration of the fixture's various operating parameters. The unit also supports the RDM protocol which allows remote DMX addressing and trouble shooting from an RDM-equipped lighting console It offers a choice of two DMX channel modes (22 or 25) and is also compatible with the Art-Net and sACN control protocols. A USB socket is provided on the front panel of the fixture, which can be used to easily install future firmware upgrades.
On the rear of the unit are both 5-pin and 3-pin DMX input and output sockets, allowing easy integration into any existing DMX system, as well as RJ45 input and output sockets for Art-Net or sACN connection. PowerLock input and output connections are also included, which allows the power supply for multiple fixtures to be daisy-chained together.
With dimensions of 14.18" x 9.21" x 22.04" / 360mm x 234mm x 560mm and a weight of 42.4 lbs. / 19.4 kg, the Focus Spot 6Z is a substantial fixture. However, thanks to convenient handles located on either side of its base, the unit is easy to carry and rig. It also features both pan and tilt lock switches, to prevent the head from moving during transportation and rigging.
"Combining a powerful 300W LED light source with an expansive collection of beam shaping tools, the Focus Spot 6Z represents a significant step forward for the ADJ Focus Series," comments ADJ USA's National Sales Manager, Alfred Gonzales. "We have developed this fixture to meet the needs of the rental, event production and integration markets for a powerful and versatile moving head spot. Lighting professionals will love this fixture because it not only covers these bases, but also offers the reliable build quality and excellent value that ADJ's reputation is built on."
The Focus Spot 6Z is shipping now worldwide.
To find out more about the ADJ Focus Spot 6Z, visit:
www.adj.com/focus-spot-6z