Martin LED, video, control for Harvest Christian Fellowship
On March 17th,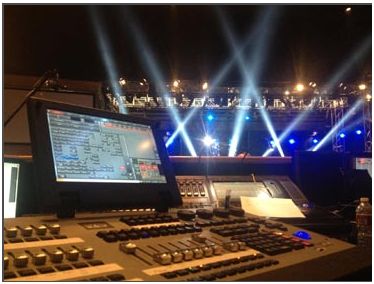 Harvest Christian Fellowship in Riverside, California, celebrated the ministry's 40th anniversary by hosting a weekend event titled "ReEnvision." The weekend was intended to reflect on how Harvest grew from a small church into one of America's mega-churches with one of the largest evangelical outreaches in America and the world, "Harvest America."
Harvest lighting designer and programmer Christopher Eguizabal was tasked with lighting the event, as well as a special dinner for Harvest guests and staff to be aired on television. The lighting rig therefore needed to look good for both the live audience and on camera.
Christopher decided to go with Martin's MAC Aura wash light, which he used to key light the audience as well as wash the audience in an array of colors throughout the evening.
"I have always loved the products that Martin has put out over the years," Christopher commented. "I've chosen Martin products over others because of the great durability they have, the output compared to other fixtures and the clean look they give. The MAC Auras were no exception – they supplied me with amazing key lighting abilities and variable white, which for cameras worked amazingly well."
Lighting control was via Martin's easy to use yet powerful M1 console. "I chose the Martin M1 because I think it is a perfect console for this type of event," Christopher stated. "It offers a lot of playbacks and it's easy to grab things on the fly if needed. The layout of the console and software is amazing as well."
Christopher says that the biggest reason he goes with Martin isn't only because of the "amazing" products but also because of the incredible customer service he receives.
"Product managers Matthias Hinrichs and Paul Pelletier and the guys at Martin always amaze me with the new software revisions and console products they keep producing and I am happy to be able to keep using Martin products," he says.
And with Harvest's recent purchase of the new Martin M6 lighting console, Christopher will have ample opportunity to do just that. He states, "We are definitely excited to use it for our upcoming events that will feature extensive visual media elements."
Harvest acquired their Martin lighting and control gear, which included Martin EC series LED video panels driven by Martin's P3-100 System Processor, from southern California-based equipment supplier Felix Lighting.
Martin Equipment:
20 x MAC Aura™
EC-10™
EC-20™
P3-100 System Processor™
1 x Maxedia™
1 x M1™
www.martin.com