"Little Blue" – FAVnet HD/SD KU Band Uplink Services
FAVNET introduces "Little Blue",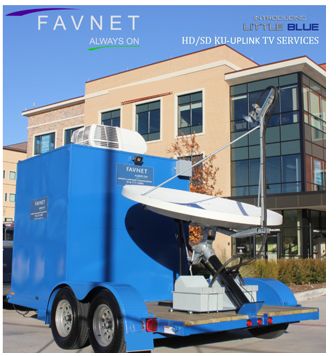 KU Band HD/SD-TV uplink trailer, designed for New Sports and Entertainment satellite transmission services. Sporting the latest in H.264 encoding technology and DVBS2 modulation, Little Blue offers affordable uplink with all the amenities of a larger SAT Truck facility. Little Blue has a distinct advantage over conventional DSNG vehicles for phone and IFB, outside of cell phone operating areas with its independent TDMA iDirect™ services through TrustComm Teleport, making it "Always On".
IP based solutions and years of terrestrial transport experience were combined to make up this platform, says founder/engineer Michael Creamer. DSNG and regional sporting events will be the main focus. A 4.5 Meter WiFi (Ruckus Wireless MIMO) mast antennae allows for localized IP broadcast of events as well. FAVNET is offering this Satellite service in the Texas SW region, but is available to travel anywhere in CONUS coverage area. The entire 14 foot dual axel trailer is pulled by a FORD 150 truck which affords better gas mileage and faster deployment times.
The uplink sports a 1.8Meter dish with dual chain AnaCom 60W KU band BUC's. Combined with Newtec AZ910 DVBS2 Modulators, allows efficient uplink from 3 to 18 MHZ for clients. FAVNET is a reseller with several leading space segment providers and can offer complete packaged deals. Additional remote TVRO packages are also available on demand to corporate and religious broadcast clientele.
FAVNET has extensive experience in SIP/VoIP based solutions, so IP phones and IFB are also on board. The goal was to offer as much facility in a smaller more agile configuration. Cameras, switchers and additional video recording is also available on demand from a partner's large rental inventory. The trailer was prewired for additional facilities to be easily deployed and made ale carte to clientele. The roof of the control room is reinforced steel ribs allowing it to serve as a camera platform.
FAVNET is located in Flower Mound Texas and offers complete communications solutions and integration services in addition to its newly formed satellite services division.
For more information; www.favnet.net or www.texastvtrucks.com
info@favnet.net