Lil' G™ – Mini Moving Head Spot
It's Small In Stature, But Big Where It Counts!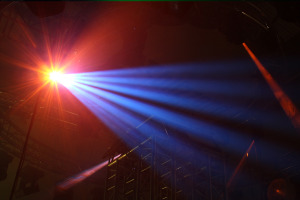 An impressive new mini moving spot head fixture is available from Blizzard Lighting that comes packed with many of the same high quality features found in larger professional fixtures, for a fraction of the price. Meet Lil' G™.
Lil' G™ comes fitted with a super-bright 40-watt LED with 9° optics. It can produce intense beams of light with 9 different bi-directional gobo patterns +open, and 7 colors (including UV) +open. Lil' G™ is also capable of fast and precise 540°/220° pan and tilt motion.
Controlling the fixture is a breeze via 11-channel DMX, or directly using its 4-button LCD menu, which both offer full control including pan/tilt, gobo wheel, color wheel, dimming, strobe, gobo shake, auto, sound active, and fixture reset.
The power input on Lil' G™ is industry standard PowerCON® compatible, and DMX 3-pin In/Out jacks + a single clamp bracket round out the professional features you'll find in this incredible new fixture.
Retail price for Lil' G™ is $649.99.
Visit Blizzard's website at: www.blizzardlighting.com