LifeWay Christian Resources
February 21, 2013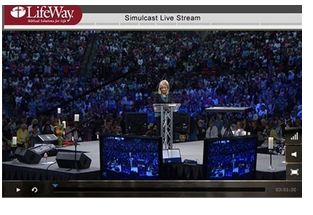 LifeWay Christian Resources, a religious nonprofit organization, is one of the world's largest providers of Christian products and services, and owns and operates two of the largest Christian conference centers in the country.
LifeWay's technology division is investing in ways to extend the reach of their largest conferences through simulcasts and on demand access over the web for audiences to view via the desktop or mobile devices.
iStreamPlanet is LifeWay's go-to provider for these large online broadcasts to ensure the online events are executed flawlessly providing their viewers a high quality video experience and an opportunity to participate in the events in their own churches or homes, extending the reach and impact of the conferences.
Extending the Outreach
The events that LifeWay produces vary in size from three thousand to as many fifteen thousand people attending the live events. LifeWay's technology division is extending the outreach of the church by simulcasting their live events online to churches who provide a group viewing experience for their congregation.
"We have some of our own resources to provide a simulcast, but they're limited. We turn to iStreamPlanet for our larger events where we want to ensure a high quality video experience. We rely on iStreamPlanet's expertise and abilities," said Scott Allen, Advanced Live Streaming Engineer, for LifeWay. "iStreamPlanet gives us peace of mind when we're producing an important event."
Live Video Workflow from Acquisition to Analytics
iStreamPlanet provides LifeWay an end to end video workflow, from acquisition to analytics. LifeWay produces their events in large churches or stadiums and depending on the venue iStreamPlanet will acquire the main broadcast feed off the switcher typically via satellite. iStreamPlanet also provisions the satellite truck and manages the satellite uplink for LifeWay.
According to Allen, "We always bring in a satellite truck on larger events as our primary uplink and use the internet as a backup in the event of weather related satellite problems."
"If we're not sure about sat truck placement we'll do a site survey, determine cable placement and the ideal location for trucks. If it's a new venue, one that LifeWay hasn't broadcast from before, this is a critical step in the process," said Eric Signorile, director of sales for iStreamPlanet.
Encoding
Once the content is ingested, iStreamPlanet begins the encoding, or digitization, of the broadcast using custom profiles that output adaptive bit rate (ABR) smooth streams for the desktop as well as Apple HLS streams viewable on the iPhone and iPad. Using ABR streaming ensures that the viewer is receiving the highest quality video their bandwidth can handle. This cuts down on buffering and video delays.
"We have some of our own encoding equipment, but it's not sufficient for our larger events or when we want the video viewable on mobile devices," said Allen. "Taking advantage of the encoding infrastructure in iStreamPlanet's Broadcast Operations Center provides a big resource savings for LifeWay."
iStreamPlanet can provide encoding services onsite in the Las Vegas Broadcast Operations Center, or offsite at the event location. In both cases it's critical to build redundancy into the infrastructure so the live event can continue streaming even if an encoder fails.
Publishing
LifeWay uses Akamai's HD Network to push the streams out over the internet to LifeWay's connected audiences. The encoded streams are published to an Akamai origin and distributed throughout Akamai's HD Network using edge caching to get the streams as close to the viewers as possible and achieve higher quality video with less latency.
Although the audience outside the US is small it's not unusual for as many as 20 different countries to simulcast a live event.
"Today it may only be a handful of locations offering the online broadcast, but it's a real plus. Growth outside the US has a lot of potential," said Allen.
Playback
iStreamPlanet created a custom Silverlight player for the LifeWay events. The player is easily embedded into the webpages that LifeWay creates and hosts. The player is built to support the adaptive bit rate streams and incorporates DVR functions making it easy to control the playback and viewing of the event as the event is happening live as well as the later viewing on demand.
iStreamPlanet hosts the on demand LifeWay broadcast so audiences can access them for up to thirty days following the live broadcast.
"We try to get people involved in the actual live event where possible, but time zone issues make the on demand, limited offering a must," said Scott Allen.
Analytics
During and following the event LifeWay is able to access analytics from Akamai. These analytics help them monitor video quality as well as viewer behavior such as the number of viewers, how long they're watching, what devices they're using and where they are located. This data helps LifeWay work with the event owners to fine-tune their event strategy to reach larger audiences and keep them engaged.
Throughout the event iStreamPlanet is providing real time monitoring via a team of technical engineers and webcast producers, either offsite at the Las Vegas Broadcast Operations Center or onsite at the live event venue if LifeWay wants the team of experts in the room to ensure a flawless online broadcast.
Planning for the Future
As their connected audience grows, LifeWay is thinking about their next steps in online broadcast.
"Just 2 or 3 years ago the bandwidth wasn't available and devices like the iPad didn't exist. But those barriers are coming down. The potential is huge for someone on an iPad or on their flat screen TV to get a great experience. Today we are mostly simulcasting through churches where groups are viewing. But we also see where maybe three to five women will get together and watch from a living room."
"LifeWay is a church resource company, getting into the individual and small group market is a new thing for us, but we're trying to figure this out," said Allen. "We weren't sure how the small group experience would be received but we're getting great responses from these individuals."
Looking Ahead
A feature that LifeWay is now considering is enabling multi-language support live at their events and in the simulcast. By having translators onsite LifeWay can capture up to 9 different audio tracks that then appear as a drop down choice in the player. This feature will help LifeWay with their goal of expanding their message to a global, connected audience.
"I'd love to reach a million people on one of these live streaming events. We're going after numbers but what we really is for people's lives to be changed, in some of these events I get responses and they're just absolutely moving, it only takes a handful of those to make it worthwhile. Maintaining the end user experience is the highest priority."