L-com Adds USB 3.0 Fiber Extender Spectra™ System by Icron
January 23, 2013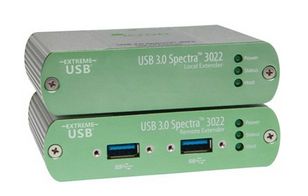 L-com, Inc., a designer and manufacturer of wired and wireless connectivity products, has listed Icron Technology's new Spectra™ USB 3.0 Fiber Extender System. The new system allows USB 3.0 connections to be extended over multimode fiber optic cables for up to 100 meters (328 feet).
The new USB 3.0 standard allows data transfer feeds up to 5 Gbps, ten times faster than the 2.0 standard. This increased speed is perfect for large file transfer, audio, video, large images, and server libraries. Icron Technologies Corporation, which L-com has carried for nearly a decade, makes high-quality extension and conversion equipment. The new Spectra™ 3022 features a Single USB 3.0 Type B on the Local Extender (LEX) unit and 2 USB 3.0 Type A ports at the Remote Extender (REX). The two units include duplex LC fiber connectors and can be extended up to 100 meters using OM3 (50/125 Laser Optimized) fiber optic cabling. L-com can provide this cabling as a configurated item in the traditional Aqua blue or in Orange OFNR jackets.
"Icron's game-changing technology is the perfect complement to our growing offering of USB 3.0 cabling products," said Manuel Martinez III, Product Manager. "L-com supports USB 3.0 and will continue to add innovative solutions to implementing this technology."
L-com will stock several of the new Icron products in its North Andover, MA, warehouse for same-day fulfillment on orders. Full images, specifications, and a datasheet are available on L-com's website.
For more information, please visit: http://www.L-com.com/