Jupiter DSP: House of Worship
Product Overview: Jupiter App Based Turn-Key DSP
February 8, 2012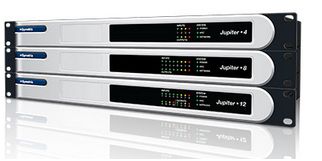 Jupiter packages powerful DSP into a zero learning curve, turn-key audio processing solution using the 'apps' paradigm of smart phones. Today's House of Worship systems need to satisfy multiple roles with turn-key simplicity.
Jupiter uses advanced expander-based automixing for unobtrusive yet natural sound mixing while used in NSS (Not Sunday Service Mode) when the system must operate unattended.
Presets allow the system to quickly switch back to Sunday Service Mode when an operator is present.
ARC-WEB can be custom configured to provide all the web-based control users need such as preset recall, volume adjustment and more. The dynamic menu interface provides clear user prompts for error-free operation.
Wall panel remote interfaces like the ARC-2e can also be custom configured for local control and be synchronized with ARC-WEB or any other control system.
Jupiter 4: App Configurable 4×4 DSP
Jupiter 8: App Configurable 8×8 DSP
Jupiter 12: App Configurable 12×4 DSP