Jimmy Swaggart Ministries Embraces myMix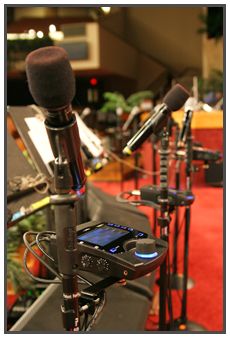 The Jimmy Swaggart Ministry takes its music very seriously. Having been on the Christian music scene in a variety of capacities for over 50 years, music is central to their ministry. Grant Embury, Head Technical Director decided to invest in a personal monitor mixer and turned to myMix.
Embury first saw myMix in action while free-lance mixing in New Orleans. He quickly saw its potential on his home turf and realized that it is exactly what they needed to clean up the stage volume for the 5,000 seat sanctuary. "Music is so important to what we do. There really is only the sermon and the music. The music is key; every time it is something new and fresh—never repeated." Everything the musicians do is live to air—there is no remixing or pre-recording which means having a clean sound is essential.
Embury contacted MOVEK, the manufacturer of myMix, and was directed to Ethan Miller, owner of Advanced Audio Video Technologies in Sulphur, Louisiana, who eagerly agreed to do a demo of the product. Embury and Robin Herd, the Music Director, were amazed at the sound quality. "If this can improve the sound on the stage and for our live shows, then we want it!"
A subsequent demo was scheduled with dealer Ethan Miller present and Mathias von Heydekampf, owner of Movek. "The demo makes the sale" von Heydekampf often states. "We rely on good demo dealers like Advanced Audio Video Technologies because we know that the product is being introduced as it should be." As with any new technology, the advantages of myMix can be overlooked if not demonstrated correctly. The features are numerous so it is helpful to have a professional dealer walk through the possibilities so customers can take full advantage of all the benefits and have the support of a good dealer. And that is exactly what Ethan Miller offered.
The full demo was scheduled with all 10 musicians and 10 vocalists, including Jimmy Swaggart. The set up was completed and ready for their afternoon rehearsal of the regular evening international live broadcast. By the end of the rehearsal, Swaggart replied, "I have never heard a smoother sound on stage."
They went live that evening with myMix powering everyone's sound.
Advanced Audio Video Technologies will be installing the large scale system into the existing analogue console and will include:
20 myMix, personal mixers
3 myMix IEX-16L-A 16 channel input expanders
2 myMix Power8 and 1myMix Power12 Ethernet switch as well as 1 myMix Control, network interface for web browser remote control.
This set up will give them 92 channels on the network from which they can pick and choose. Having options was a big deciding factor for Embury. "Because of its digital networking capability, myMix has the advantage of a massive pool of audio. We can substitute channels and pick and choose on the fly, without limitations." He is excited about the recording feature that is offered on each myMix. Even though the facility has its own recording studio, the recording feature will allow musicians to take home their SD cards with the multi-tracks on it so they can practice at their leisure. Profile settings is something that Embury is just beginning to explore but has said that going forward, this will be an important feature to allow for quick change overs.
Embury sums up his myMix experience: "myMix has quickly become instrumental in improving the quality of our performances and our recordings. The musicians hear better and so they play better. The flexibility and capability of myMix simply can't compare with anything else out there."
www.mymixaudio.com