Introducing…The World's Largest Optical Front Projection Screen
View it Large with the new dnp Supernova XL Screen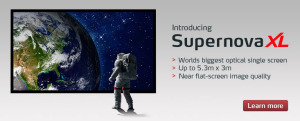 dnp unveils the latest in Optical front projection screens, the dnp Supernova XL. Available in Supernova 08-85 ISF Certified film, the Supernova XL offers an economical solution for large format front projection Optical screens.
"The Supernova XL Screen's size and optical performance make it the ideal screen for large venues such as auditoriums and Houses of Worship. It's also offers a more cost-effective option to the Supernova Infinity in screen sizes below 240″ diagonally", says Jesse Walsh, dnp North American Sales & Marketing Manager.
Supernova XL is available in widths of up to 17.5-feet and is shipped rolled in boxes that are approximately 24″W x 17″ H x 123″ L. The box lengths vary depending on the height of the screen, which reduces freight cost and enables the screen to be moved more efficiently through stairwells and elevators.
The new Supernova XL also features a revamped tensioning system, and an innovative wall mount system, making the screen a snap to install. The new frame design is very contemporary and robust.
• Completely re-designed with new frame components
• New Flexible tensioning system for easier assembly
• New wall mount brackets
• Available in ISF certified 08-85 ISF Supernova material
• Up to 210″ wide
dnp denmark's corporate headquarters is located in Karlslunde, Denmark. dnp denmark is the world's leading supplier of optical front and rear projection screens for high-quality display solutions. Supernova is a registered trademark of dnp denmark as. dnp North America is located in Anaheim, CA where it maintains sales, showroom, warehouse, and service facilities.
For more information visit www.dnpna.com