Introducing the New KAMKIT
Kelowna, BC CANADA – March 25th, 2013 – Beachtek announces the new KAMKIT accessory pack for DSLR cameras and camcorders. The KAMKIT consists of a Multi-Mount Bracket, Shock Mount for boom mics and a Top Handle. All pieces can be used together or independently.
The aluminum bracket provides 6 mounting shoes for attaching a variety of gear to any camera with a standard sized hot shoe. The mounting foot is removable to securely attach the bracket directly to the top of the Blackmagic Cinema Camera. The shock mount makes it easy to snap a shotgun microphone on or off the camera and is highly effective at reducing noise for hand held shotting. Slim line design fits neatly into the center of the bracket or directly on the camera. The top handle is a light weight and sturdy solution for adding a grip to the camera.
This product is expected to be released by June 1st, 2013 to leading audio and video dealers worldwide. The suggested list price of the KAMKIT is $149.00 in the United States.
Key Features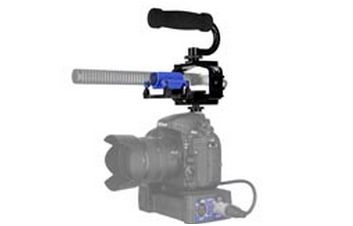 Multi-Mount
• 6 mounting shoes with threaded ¼" / 20 holes on the two vertical shoes
• Removable foot allows direct attachment to the Blackmagic Cinema Camera
• Virtually indestructible aircraft aluminum
Mic Shock Mount
• Clip design to easily snap a boom mic on and off the camera
• Highly effective at reducing vibration hand holding noises
• Slim line design
Top Handle
• Light weight and comfortable grip
• Mounts to bracket or directly to camera
Beachtek is the original and most popular producer of audio adapters for DV camcorders and DSLR cameras. The company specializes in unique audio accessories for the demanding videographer.
Beachtek is located in Kelowna, British Columbia, Canada. For additional information about Beachtek or the products that they offer, including full specifications on the KAMKIT, visit their web site at www.beachtek.com