Introducing Audio-Technica's New AT5040 Premier Studio Vocal Mic
January 15, 2012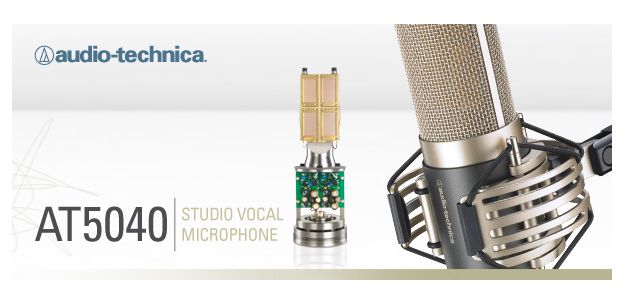 Introducing Audio-Technica's premier studio vocal microphone, the AT5040 cardioid condenser. The debut of our flagship 50 Series, the AT5040 represents a milestone in condenser design, offering remarkably musical high-fidelity performance, with profound realism and depth, presence and purity of sound.
Listen for more: purity, presence, depth & detail.
Designed as a first-choice vocal microphone, the AT5040 features an extremely smooth top end with controlled sibilance. Large-diaphragm characteristics and fast transient response also make it ideal for recording acoustic instruments such as piano, guitar, strings and saxophone.
Features
• Four rectangular diaphragms (2 micron) function together as Audio-Technica's largest-ever element, providing combined surface area twice that of a standard circular one-inch diaphragm
• High-SPL capability and extended frequency response
• Advanced internal shock mounting decouples the capsule from the microphone body
• Included advanced-design custom AT8480 shock mount provides superior isolation
More info at www.audio-technica.com