Iconyx Brings High-Tech Sound to a Classic Church
Parker Memorial Baptist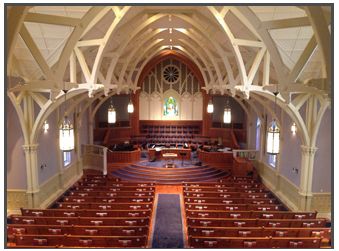 is one of the area's most storied churches, with a history dating back to shortly after the Civil War. The landmark 19th century building and its 300-seat sanctuary have been lovingly preserved over the years, with its ornate columns and woodworking detail meticulously maintained.
As with many older structures, its picturesque beauty is somewhat offset by troublesome acoustics. "It's pretty typical of the architecture of that era," explains Glen Ford of Oxford, AL-based Sound Solutions. "It's a rectangle – a long box, with an extremely high peaked roof."
It's an environment well suited for the church's traditional Southern Baptist service, with choir, pipe organ, and full orchestra, but not so great for sermons. "Acoustically it's very challenging to get good intelligibility in a room like that," says Ford.
The church also has a small balcony that holds about 30 people. Above that, almost 80 feet from the stage, is the FOH mix position (which, quips Ford, is "its own air conditioning zone").
Sound Solutions specified a system based Renkus-Heinz Iconyx digitally steerable column arrays, with a single pair of IC24-R-II columns covering the entire room. "We chose the Iconyxbecause it enabled us to steer the sound to focus it on the congregation, and away from the walls and ceiling," says Ford. "We were able to create multiple beams to cover everything from the first pew all the way up to the sound man. We were even able to create a bit of a 'null' at the balcony face to minimize reflections."
Needless to say, the building's landmark status and vintage architecture meant that the system had to meet some strict aesthetic guidelines. "The building is 125 years old," says Ford. "It was clear from the outset that the system would have to be as visually unobtrusive as possible."
Adding to the challenge were the room's plaster walls, which were not an option for mounting speakers. The only alternative, the room's wooden columns, were practically on top of the front row. "We matched the paint and mounted them to the columns, and they're practically invisible," Ford reports. "And even at close range, we were able to direct the sound so it wouldn't blow away the people in the front row." A pair of Iconyx IC8R-II columns provides monitoring for the choir and orchestra.
System DSP is handled via a Biamp Nexia, connected to a PreSonus StudioLive 24 digital console at FOH. "The signal is digital right out of the StudioLive, and stays that way all the way to the Iconyx," says Ford. He adds that he only path to bring signal to the speakers was up through the attic and then back down along the beam. "The ability to run a digital signal over a single Cat5 cable for such a long run with no signal loss was another big advantage for the Iconyx," he says.
Ford reports that reaction to the new sound system from staff and congregation alike has been overwhelming. Vocalist Janet Paschal, invited to perform at the dedication ceremonies, remarked, "The sound was amazing: sweet acoustics with wide, layered sound. It was difficult to pinpoint the origin of the music – it felt as though you were sitting right in the middle of it."
www.renkus-heinz.com