Iconyx Brings a New Chapter to Historic Manhattan Church
The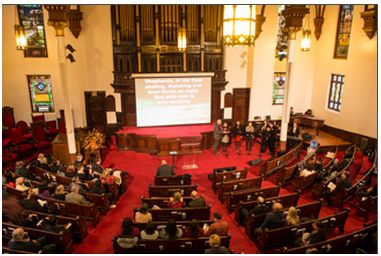 brick and brownstone building that is home to New York's Seventh Day Adventist Church has stood on this tree-lined street in Greenwich Village since 1882. Today, this 1,000-seat historic landmark retains much of its original architecture and interior design, including grand Tiffany style stained-glass windows, smoothly aged, dark wooden pews, and high, vaulted ceilings. A magnificent organ rises high above the stage, and a balcony partially extends over the large, open auditorium.
Like many of the era's grand old churches, the acoustics can be magnificent for organ and choir, but the sermons were battling the architecture's myriad reflective surfaces. Areas under and in the balcony suffered from particularly poor intelligibility, and coverage was inconsistent throughout the room. The steep rake of the pew seating, covering almost one vertical story from the entry doors to the stage, only exacerbated the problem. The Church's previous portable system did little to improve intelligibility, and even less for aesthetics.
"The Renkus-Heinz Iconyx was really the best choice for this room," explains Geraldo Watson, President and CEO of BUSA AV Technology & Construction in Brooklyn, NY, the system contractor. A pair of Renkus-Heinz IC24-R-II digitally steerable column arrays are mounted left and right of the stage. "It's a bit of a challenging room because of the shape, and all the reflective surfaces."
"Two IC-24 columns cover the whole room. We didn't need any fills or additional speakers," says Richard Trombitas of Northport, NY-based Cardone, Solomon & Associates. "In addition to providing consistent coverage in the primary seating areas, Iconyx enabled us to selectively steer the sound into the areas where it was needed, while minimizing reflections from the walls and windows. With the IC-24s we were able to create a nice, narrow beam to cover the balcony and another to cover the area below it. This approach provided a comprehensive solution for this customer, utilizing only two boxes."
Not surprisingly, aesthetics were an important consideration in this landmark building. The low profile design of the Iconyx meant they could be mounted flat against two large wooden columns, painted to match the décor, and blend almost invisibly with the architecture.
The stage area is equipped with four Renkus-Heinz TRX82/12 dual eight inch 120 X 60 degree loudspeakers for monitoring, powered by a single Powersoft M50 amplifier. "The TRX82 is a great option for stage monitors," says Trombitas. "Its low profile, controlled mid-bass directivity and 120 X 60 degree pattern are optimal for this, as well as many other HOW and performing arts applications"
Watson reports the Church staff and congregation have been exceptionally pleased. "When they heard the sound coming from the new system, they were amazed at the clarity. They just love it."
www.renkus-heinz.com