HOW-TO Workshops Live Sound Training
Coming Up from How-To Workshops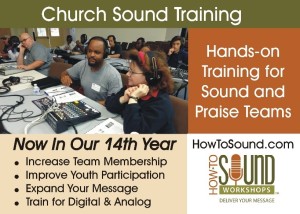 The nationally-recognized HOW-TO Workshops provide hands-on training for church sound and Praise team volunteers and staff. Now in their 14th year the workshops tour to 36 cities each year with over $125,000 in live sound equipment with the sole purpose of training church teams in the art and operation of live sound equipment. The HOW-TO Workshops are the leading providers of live sound training for worship and higher education in North America.
Today's forward-moving churches have the challenge of purchasing, maintaining and operating sophisticated sound equipment. How do you know what gear to purchase? Is it the right equipment for your church, and will it enhance the worship experience or simply drain your budget? And how does a group of well-meaning but inexperienced volunteers properly operate it? How can you get the Praise team to work as one with the sound team? That's where the HOW-TO Workshops come in. Produced by Fits & Starts Productions and lead by experienced sound professionals with some 70 years in the professional audio industry the workshops tour to cities across North America so that church teams don't have the expense and loss of time required having to travel to distant cities for training.
Offering up to 30 workstations for true hands-on training the HOW-TO Workshop provide a full 8-hour day of training at a local church host site. All attendees are provided with workbooks, continental breakfast and lunch as part of the affordable registration fee. The entire audio signal chain – from microphone to speaker – is examined in depth with equipment examples so that participants can see, hear and feel the gear. Solo, Mute, Aux Send – attendees will finally learn the exact purpose of each button and fader on a mixer. How else can you truly learn how to navigate an analog or digital console? Speaker types, microphone choice and placement, equalization, recording … all subjects to be covered in the workshop.
Upcoming Workshops:
Bethel Church, 1705 Todd Lane, Hampton, VA 23666. Saturday, August 23, 2014; 9 AM-6 PM
Family of Faith UMC, 801 Bellefontaine Avenue, Lima, OH 45801. Saturday, September 6, 2014; 9 AM-6 PM
Destiny Christian Church, 2161 Forrest Avenue, Dover, DE 19904. Saturday, September 20, 2014; 9 AM-6 PM.
In addition to the community-based, day-long workshop, the HOW-TO Workshops also offer private Tune-Up sessions for individual churches and a three-day Boot Camp session for churches and worship organizations needing more in-depth training. See more at www.howtosound.com or call 732-741-1275 or e-mail Hector@fitsandstarts.com