GLP X4 BAR 20 AND JDC1 DOMINATE MAIN RIG AT 10,000-CAPACITY WAREHOUSE PROJECT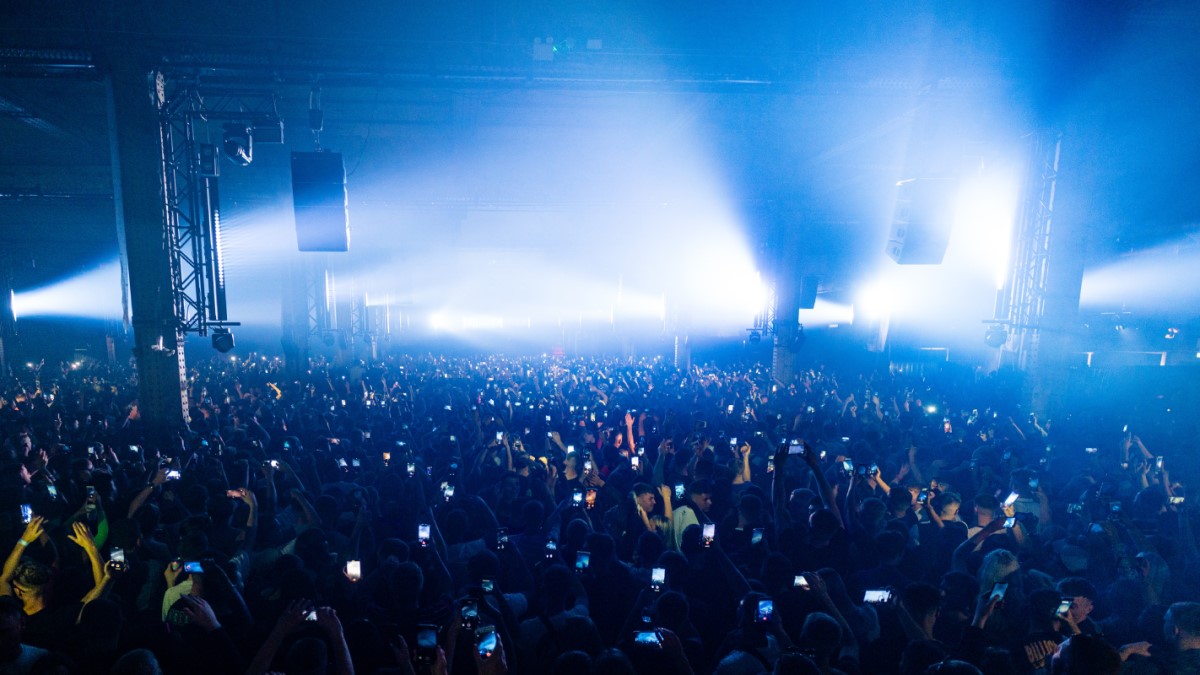 For the 14th year in succession, dbnAudile have installed the technical infrastructure for the Sacha Lord/Sam Kandel promoted Warehouse Project pop-up, through its various venues in Manchester.
Originally working under separate guises, before dbn Lighting merged with Audile, the technology specialists recently put in infrastructure at the Project's latest home, the 10,000 capacity Mayfield Depot, which sits adjacent to Manchester's Piccadilly Station; this includes large quantities of GLP X4 Bar 20 battens and JDC1 hybrid strobes in the main room for the four-month season which runs until January 2020.
Starting life at the old Boddington's Brewery, the event now sees high-profile dance acts including MK, Diplo, Disclosure, Aphex Twin, Soul II Soul and Hacienda Classical performing under a lighting rig designed by dbnAudile director, Pete Robinson.
He says the venue is a popular choice. "When I asked what the load limit was, since we had designed 2-tonne rigging brackets, I was told not to worry as directly overhead there were two platforms which would take 100-tonne trains each, as the building had originally been a freight depot for Mayfield Station!"
He continued, "We did a one-off event in this space last year as part of the Manchester International Festival and lighting designer Stuart Bailes suggested we use X4 Bars. This worked so well that when we came back here we decided to use them again, and this time have upped the quantity to 52 X4 Bar 20s."At the same time they acquired 32 JDC1s, which have also been pressed into service.
dbnAudile have also incorporated the fixtures on festival rigs in the past, such as Parklife, for Sacha Lord, who has now had the title of Greater Manchester's first 'night tsar' conferred upon him. "We have a sweepstake at festivals to see how many different combinations of Bars and JDC1s that can be used in every floor pack." This speaks volumes of their versatility, he says.
For the Warehouse Project, all the X4 Bar 20s are mounted on vertical trusses. "The main space has pillars throughout the venue and each supports a pair of Bars, hung one above the other. The remaining eight are positioned at the same height at the back of the stage behind the semi-transparent LED screen," says Robinson.
"Our house style is quite dark and based around a limited color palette, mainly blue and red with cool and warm whites, all of which the X4 Bars deliver at appropriate brightness and with a genuine tungsten feel. The Bars are run in 89-channel single pixel high resolution mode and so frequently get mapped. Most weekends we have visiting LDs coming with the artists and finding different creative ways of using them. It's rare that they aren't familiar with both the Bars and JDC1."
As each of the trusses occupies half a DMX universe (or two pillars to a single universe) the JDC1s are run in the normal, less hungry 23-channel mode.
Pete Robinson is extremely complimentary about these hybrid strobes. "I first saw them at PLASA and while they seemed 'nice' I wasn't sure then how I was going to justify the spend. But having seen them since at shows, and now in our venue, they are out of this world, so bright and full of interesting tricks."
And he believes that having 'tricks' up their sleeve is the key to a successful lighting fixture. "After that you need versatility so it's not a one-trick pony. These two GLP fixtures have a genuine piece of the market, and you see people using them in so many different ways."
As a result, the Friday and Saturday nights are going "almost better than we could have hoped", he says. "Response to the venue, and how the design looks, have been fantastic. The customer experience is good and every visiting artist's technical team have been complimentary. We have seen the smallest amount of floor packages and extra kit being brought in as [techs] have said 'We don't need anything else'."
In addition to designing the rig Pete Robinson also project managed, supported by production technician Dale Wilson and house LX operator Colm Whaley.