GLP US Inc. Bring a Full Range of New Products to LDI 2014
GLP continues to celebrate its 20th anniversary at this year's LDI Show in Las Vegas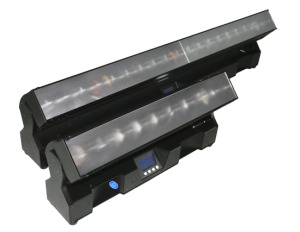 As at Prolight+Sound and PLASA earlier in the year the company will present a museum, displaying milestone products released during the past two decades. An area well worth visiting.
But the highlight of the main product display area will be the expanding series of impression X4 products — including the brand new impression X4 Bar, making its North American debut at the show.
The impression X4 Bar 10 and impression X4 Bar 20 are high performance battens that incorporate 15 Watt RGBW LED's packed tightly to give a full line of light. The X4 Bar 20 measures 40 inches / 1 meter in length and uses 20 LED's, and the shorter 20 inch / 50cm X4 Bar 10 uses 10 LED's. High quality optics ensure a smooth, homogenized output across the batten through a broad pallet of pastel and saturated colors, complimented by GLP's exceptional dimming which ensures that there is no color shift, just smooth even fades. DMX control offers full pixel mapping capabilities, whilst both units feature a 7:1 zoom ranging from 7 to 50 degrees, giving effects from a narrow angle light curtain to a wide angle washlight. The X4 Bar also features a motorized tilt, for fast refocussing or to be used to add more dynamics to the output beam. Multiple X4 Bar units can be aligned, and maintain consistent pixel spacing between adjacent units. The X4 Bar is complemented by Powercon in and thru connectors for easy daisy chaining without the need for an external PSU, multiple DMX modes, rubber feet for floor mounting and ¼ turn attachments points for rigging.
Also on show will be the new high output, impresssion X4 XL. This big brother to the X4 uses an incredible array of 55 RGBW high output LED's, each rated at 15 watts, coupled with a highly efficient zoom range from a tight 7° to a wide 50°. With its large front aperture, the X4 XL produces a massive amount of light that will throw for extremely long distances. The fixture continues the baseless design that has become synonomous with GLP, keeping the fixture as small and compact as possible, despite its huge output.
Scenex Lighting, the range of scenic LED elements from GLP will be showing the full range of pixel controllable LED tapes which range from 32 pixels per meter, right up to a high resolution of 144 pixels per meter. These will be displayed in a variety of extrusion housings and coverings which are now part of the standard product range.
Also getting its LDI debut will be the latest version of AirDMX, a WIFI based wireless DMX system that runs from a standard Apple Ipad. An intuitive graphical interface is downloaded for free onto any iPad and then connects to a remote box giving a full universe of wireless DMX control at low cost. Latest features include an expanded show management system that includes the ability to easily share shows across different iPads.
The GLP booth is located at #2960 and guests can attend the show for free by using the following link:
www.compusystems.com/servlet/ar?evt_uid=680&oi=5FCASc8qbHDHoIiGjo9vog%3D%3D&company_code=E408