Getting the white right: ETC introduces the Source Four LED Studio HD™ spotlight
(25 March 2013) — "White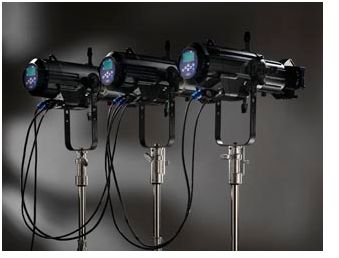 is the presence of all colors. ETC wanted to make a white-light LED spotlight that would be worthy of professional broadcast, film, and video production," says ETC's Matt Armendariz-Kerr. The new Source Four LED Studio HD utilizes the color technology of ETC's Selador x7 Color System™ for a more spectrally-complete white light that can be finely tuned to the talent. With a unique recipe of LED color blending, the Studio HD is designed to perform in a high-definition production world where people (with varying flesh tones) need to look their best. The Studio HD combines exceptional light output with an ultra-flexible, variable white light (2700K-6500K), for truer color rendition on camera.
A multipurpose tool, the Source Four LED Studio HD is ideal for key, bounce, smooth, or textured lighting. And as a Source Four® fixture, the Studio HD offers a sharp, clean beam with precision optics.
With an adjustable PWM output (920-1500Hz and the new high 25K mode), Studio HD's flicker-free options prevent the undesirable side effects that commonly arise when using LEDs with high-speed and rolling-shutter cameras.
No external controller is necessary! With stand-alone functions and controls right on the back of each fixture, the Studio HD is a smart add to the professional lighting kit. Settings and presets can be easily copied to multiple Source Four LED or ETC Selador Desire™ fixtures, via just one fixture, making your job easier and faster.
The Source Four LED Studio HD comes in fixed or variable-focus (zoom) models. A convenient permanent-installation soft-focus diffuser kit is also available.
ETC engineers all of its LED fixtures to blend beautifully alongside incandescent, fluorescent, and other LED sources in today's hybrid lighting rigs. The Source Four LED Studio HD also accepts all conventional-Source Four accessories (irises, pattern holders, top hats, etc.), making it a great addition to an existing Source Four lighting-fixture inventory.
www.etcconnect.com