FOR-A'S Integrated Approach Addresses Unique Production Needs Required by Houses of Worship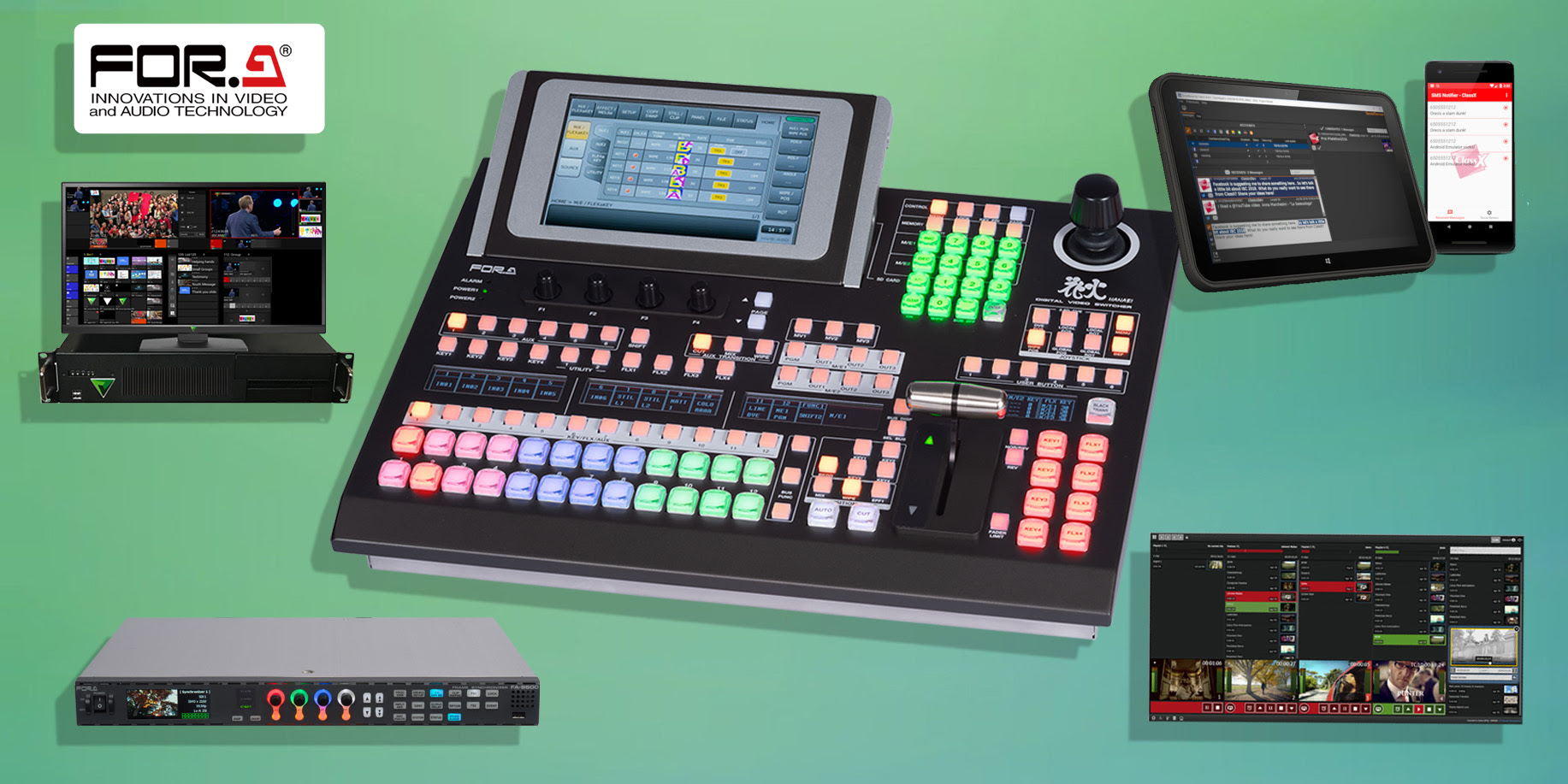 FOR-A has combined select products into an integrated, "best of breed" system designed specifically for houses of worship. The volunteer-friendly, intuitive approach is ideally suited for I-MAG and streaming applications. The package is comprised of video production switchers, servers, graphics, playout, and all-in-one production systems.
"This is a tightly integrated series of products, each selected based on their feature sets and the way they address challenges specific to live and pre-produced programming for house of worship A/V teams," said Adam Daniul, FOR-A director of midwest and south regional sales. "With the huge growth in online viewership, services can no longer afford issues like latency, poor image quality, or not enough inputs and outputs. And they need all of that in an easy-to-use, powerful and cost-effective set up."
At the heart of this comprehensive package is FOR-A's HVS-490 4K/3G video production switcher (or HVS-100 HD/SD portable switcher). For more production resources, add Envivo Studio to drive multiple screens and audience engagement and the Insight Production Server to record the service, playback clips and more. For color correction, video/audio delay and other video/audio processing corrections, FOR-A's FA-9600 multi-channel signal processor is widely recognized for its powerful processing capability. For dynamic graphics, include a package from ClassX – a world-class graphics creation and playout company. Licenses for ClassX LiveBoard Mini real-time graphics playout software are now included free with HVS Series switchers.
The HVS-490 production switcher is built for reliable 3G-SDI or 4K live production. With the use of optional input and output expansion cards, it supports 40 inputs/18 outputs, 36 inputs/20 outputs, or 32 inputs/22 outputs, including two-channel HDMI 2.0b outputs. MELite™ technology eliminates the need for multiple switchers in a multi-monitor staging scenario, while FLEXaKEY™ allows a traditional AUX bus to transform into a functional Mix Effects with cuts, mix, wipes, keys, and DVE including full preview. MELite extends the switcher's 2 M/Es to 6 M/E performance. The HVS-490 comes with a three-year parts and labor warranty.
The HVS-100 is a compact 1M/E video switcher that supports 3G/HD/SD-SDI formats. It includes a built-in Web server that lets you change settings from a PC or a tablet. It supports mixed HD/SD input, frame synchronizing, re-sizing engine, 2.5D wipe effects, DVE, Chroma keyer and DSK.
The FA-9600 multi-purpose signal processor simplifies all types of video conversion. A newly developed color processing circuit supports the latest gamut and dynamic range specifications, and an optional converter circuit is available for up/down/cross conversion. It offers conversion format delivery and frame rate conversion for 12G, 4K(UHD), 1080p and SD/HD. Each of the FA-9600 processor's two HD/SD inputs includes a frame synchronizer and provides an option for SFP connectivity.
Envivo Studio is an all-in-one live production system that includes a clip player, still store, shot box, live switcher, internal keyer, coaching review tool and powerful capabilities, including VDCP control, 24hr loop record inputs, and slow-motion replay. Designed specifically to meet the needs of multi-screen and audience engagement applications, it supports a live video switcher for cutting camera inputs, provides an internal keyer (for Multi-layer Overlay effects), and video switcher support (Key/Fill).
Envivo Studio is comprised of a hardware "server" and a software application that allows for stand-alone operation or integration with other products, such as a switcher, and may be remotely operated away from the event location. Envivo Studio offers a complete live event workflow with FOR-A video switchers.
With ClassX LiveBoard Mini, 2D/3D character generation and live motion graphics and playout software, the user can manage real-time live graphics in an SDI or NDI® workflow. Create eye-catching graphics with integrated plug-ins and/or insert NDI® sources for Picture-In-Picture DVE transitions. ClassX LiveBoard Mini is also integrated with FOR-A video switchers and supports 3G and 12G workflows. The interface software to control the ClassX LiveBoard Mini from the control panel of the HVS switcher is bundled with the switcher.
ODYSSEY's Insight Production Server, a multi-channel playout system, is available in a two- or four-channel configuration for 3G to 12G workflows. It offers Web interface for control from any device with a web browser (no installation required). It provides a wide range of supported wrappers and codecs for media contribution and video play out with time delay playback. Three-year warranty comes standard with the Insight server.