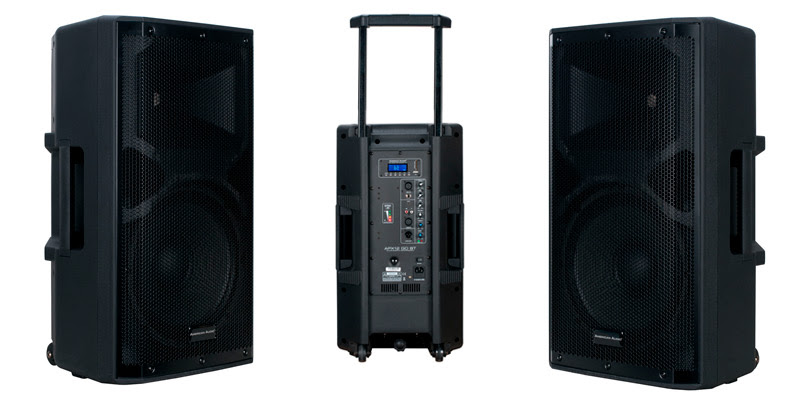 From making announcements and playing pre-game music at sports events, to impromptu pop-up musical performances, the APX12 GO BT is a versatile tool that can be used in countless ways for a wide variety of different applications. Parade floats, auctions, wedding toasts, car shows, beach parties, camping trips, backyard BBQs the list is endless. Any situation where music needs playing or a voice needs amplifying, but no power outlet is available, this keenly priced and conveniently portable system delivers.
With a sleek molded plastic design and matte black finish, the speaker enclosure is fitted with a tough protective metal grille on its front. It features a 12" woofer with a 1.5" voice coil paired with a 1" high frequency driver. An internal Class D module provides 65 Watts RMS of amplification for a peak power output of 200 Watts. The system has a frequency response of 40Hz-18KHz and a sensitivity of 93 +/- 2 dB.
The APX12 GO BT's internal 700mA 12V battery allows up to 8 hours of use from a single charge, while a handy 4-segment LED battery life indicator provides a snap shot of the amount of charge remaining. An IEC power input socket can be used both for charging and running the system from a wall socket instead of the battery.
An internal media player allows direct playback of mp3 audio files stored on either a USB stick or SD memory card. This player also features an FM radio tuner as well as a Bluetooth receiver that allows easy connection of a smartphone or tablet. A large backlit LCD display screen on the rear of the cabinet, alongside dedicated Mode, Play/Pause, Stop, Repeat and Track Skip buttons, provide simple and intuitive control of the media player. In addition, a remote is also provided which allows wireless control over playback, track skipping and volume functions. The system also incorporates a UHF wireless microphone setup, with a receiver built in to the cabinet and a battery-powered handheld mic included as standard.
The unit's on-board audio mixer, as well as the associated input and output connections, have been carefully designed to provide maximum flexibility. Both XLR and 1/4-inch jack sockets are provided for external Mic input, while the Line input offers XLR and RCA options alongside a dedicated 1/8-inch Aux connection for direct connection of a smartphone or tablet. Finally, a Line Out XLR socket is also provided for passing the audio signal through to a second APX12 GO BT or other active speaker. The mixer features independent level controls for the Mic and Line inputs, as well as the on-board media player, and also offers a master volume control. A 2-band EQ (Bass and Tremble) is also included, as are status LEDs for 'Power' and 'Clip'.
Weighing in at 35 lbs. / 16kg. and with compact measurements of 16.375" x 14" x 27.5" / 415mm x 355mm x 700mm, the APX12 GO BT is easy to lift and will fit in the trunk of most cars. It is also fitted with a pair of wheels and a retractable handle, which means that it can be wheeled to where it needs to be as simply as wheeling a cabin bag to a plane. It also features two convenient side handles as well as a tripod mount on the bottom.
"The APX12 GO BT is an all-in-one portable audio system that is ideal for everyone from yoga instructors running classes in the park to DJs playing poolside sets; street vendors selling their wares to buskers performing in subway stations," comments Alfred Gonzales, ADJ Group Sales Manager. "At the moment, as social distancing continues to be important, it's also a perfect choice for all kinds of restaurants, bars and retailers who are offering curbside pickup and want to entertain their customers while they wait. On top of all that, it's also priced competitively, making it an attractive choice for private use too."
American Audio is distributed by ADJ Products, LLC. The APX12 GO BT is available now from ADJ USA.
To find out more about the American Audio APX12 GO BT visit:
www.adj.com/apx12-go-bt