Epson launches four new models to the powerful Z Series large venue projector range
Epson, the number-one selling projector brand worldwide, has added four new models to its Z Series large venue projector range designed for corporate, higher education, staging, museum, and digital signage applications, including the Epson EB-Z10000/EB-Z10005 with 10,000 lumens of both light and colour light output.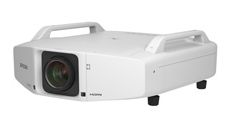 All the new models deliver advanced image quality, connectivity and installation tools, as well as an expanded feature set with edge blending, split screen capability and DICOM Simulation mode.
"These new models in the Z Series ensure a powerful performance with easy maintenance and management features that will create captivating presentations in virtually any venue," said Bruce Bealby, Epson's Business Unit Manager.
"The combination of high resolution, unparalleled image quality with enhanced super resolution technology for sharp, rich images, Epson's C2Fine Technology for blacker blacks, award-winning Faroudja DCDi® Cinema chipset for advanced video, and built-in edge blending puts the Z Series in a class of its own.
"The Z series models also boast a dual lamp system that eliminates the risk of interruption. If one lamp fails, operation continues using the other lamp. Tool free replacements allow users to replace lamps and filters without using any tools, making this a simple and powerful projector in the most demanding venues.
"Epson's Z Series is now the most comprehensive market offering of its kind for those in the business of large venue management and offers unparalleled choice to provide the right projector for any kind of venue and event."
The four new Z Series large venue projectors are:
Epson EB-Z10000/EB-Z10005 with 10000 lumens of white and 10000 lumens colour light output, XGA resolution, RRP $14,999
EB-Z8450WU/EB-Z8455WU with 7000 lumens of white and 7000 lumens colour light output, WUXGA resolution, RRP $13,999
EB-Z8350W/EB-Z8355W with 8500 lumens of white and 8500 lumens colour light output, WXGA resolution, RRP $12,499
EB-Z8150 with 8000 lumens of white and 8000 lumens colour light output, XGA resolution, RRP $10,999
Other features that add power, flexibility and performance to the Epson Z series large venue projectors include:
Cinema quality imaging with C2Fine LCD Panels, cinema filter, DCDi chip and super resolution to deliver phenomenal image quality
DICOM Simulation Mode that uses standardised grayscale to reproduce medical images such as x-rays, for medical training and education
Edge Blending that combines multiple individual images to create one seamless giant image
Split screen functionality that allows users to display content from two inputs simultaneously, side by side, on a single screen with the option of three different layouts making it possible to display video and presentation materials simultaneously, or run video on both screens.
Epson Multi-PC Projection that allows users to display four individual PC screens simultaneously over the network (wired or wireless), with another 12 users connected to the same projector on standby mode. Participants can be dragged and dropped into or out of one of the four quadrants which is a great tool for meetings or classroom projects where multiple users want to present and compare their screens.
Arc and Point Correction that fine tunes image geometry to perfection
360° Installation that can be installed on any plane, from horizontal to vertical and everything in between
2 x HDMI connections with digital quality and flexibility
EasyMP technology makes it easy to monitor and control all networked Epson projectors. Users can proactively manage their projector assets from their help desks or PC, remotely powering down projector(s) to extend the lamp life and produce energy savings change internal settings, and more.
Black or white casing that allows projectors to easily blend into any environment for rental and staging/entertainment applications
For more information visit www.epson.com.au