Emmanuel Community Church Engages Worshippers with CHAUVET Professional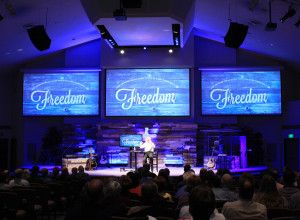 What's in a name? Sometimes a great deal of insight into the nature of a church's character. Such is the case with Emmanuel Community Church in Indiana's second largest city. "Community" is more than just part of Emmanuel's name; it's also a key to its identity. Even the About Us section of the church's website begins with the words "Emmanuel is a community of people."
So when Emmanuel Community retained CSD Group of Fort Wayne to redesign its lighting system, it wasn't surprising that the church had one overriding request: "Give us something that doesn't just light our stage, but engages our entire community of worshippers." Doug Hood, president of CSD, and his team met this mission with flying colors using a collection of 60 LED fixtures from CHAUVET Professional.
"Another church that we had done work for referred us to Emmanuel, because they knew that we shared the same philosophy of the role lighting can play in a house of worship," said Hood. "Typically, our clients aren't just looking for ways to light a stage; they also want to use lighting to help communicate their message through all the activities a church engages in, including worship services, sermons, concerts and other productions. We love to give our clients a variety of lighting tools to work with so they have a lot of flexibility to create different looks for the different ways they serve their communities."
CSD installed a new all-LED lighting system at Emmanuel Community's Worship Center and Family Life Center, both of which house services on Sundays. At the main Worship Center, the company installed two Q-Spot 460-LED moving yoke fixtures; 16 COLORdash Accent wash fixtures; four Legend 412Z LED moving wash fixtures at the front and back of stage, and 15 COLORdash Par-Quad7 compact LED par-style fixtures. Additionally, key lighting on the church stage is provided by eight Ovation E-190WW LED ellipsoidal fixtures.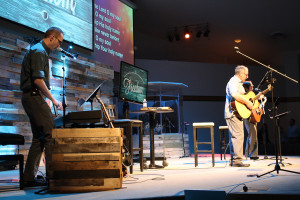 By working a large number of fixtures into the rig at Emmanuel Community, CSD ensured that the church would have more opportunities to engage worshippers with lighting. Of course, this meant that CSD would work more compact fixtures into its design, such as the 15 COLORdash Par-Quad7 units that are positioned in the bulkhead directly over the stage to provide dramatic backlighting.
The COLORdash Accents were also placed in tight spaces.  "These little fixtures are great to tuck into small areas," said Jacob Schmell, a CSD team member. "We used them to light scenery, inside the drum kit, for trees onstage and for general stage accent.  They are so compact and easy to move around that they really come in handy for a variety of applications."
Schmell notes that Q-Spot 460-LED fixture, with its rapid movements, razor sharp beams, gobo morphing and other eye-candy features, was installed at Emmanuel Baptist as part of the church's commitment to engaging worshippers. "The movers help grab attention and bring people into what is happening on the stage while creating energy around the service," he said.
At the smaller Family Life Center on the Emmanuel Community campus, CSD used two Ovation E-190WW LED ellipsoidal fixtures as key lights and six COLORdash Par-Quad7 LED units as backlighting. In both rooms, the lighting rig is controlled by a 250-channel console with 40 faders. "We fit both venues with similar DMX controllers to make it easier to train the church volunteers," said Hood.
CSD also made Emmanuel Community's lighting system easier and more affordable for the church, using all LED fixtures. "We went with all LED fixtures," said Hood. "Frankly, we seldom use dimmers anymore.  Being that this was an existing building, LED became a big time saver for the install. Since there were no dimmers, the church was able to save on the expense of having an electrician come in and run power for a large dimming rack."
Given that Emmanuel Community videos its services, the quiet flicker-free operation of the Chauvet fixtures has been critical according to Hood.  "The fixtures have done everything asked of them," he said. "They make the church look amazing and they are contributing to a greater feeling of engagement.
For more information on CSD visit: www.csdus.com
For more information, please visit www.chauvetprofessional.com
For more information, please visit www.chauvetlighting.com