Elite Multimedia Productions and Gospel Music Association Create Adaptable Video Design for The 45th Annual Dove Awards
Dove Awards Utilizes Elite Multimedia Productions for Adaptable and Unforgettable Visuals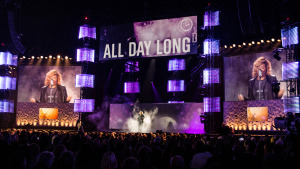 At the 45th annual Dove Awards held at Lipscomb University, the Gospel Music Association partnered with Elite Multimedia Productions to provide all of the video aspects for the diverse family of gospel and Christian music artists.
Producers Scott and Julie DeVos of De Lux Productions contracted Elite Multimedia to provide LED video walls and projectors for the award show that was hosted by Christian music artists Bart Millard of MercyMe and Lecrae.
"There's always a challenge to come up with something new and different," Scott said. "And with this year being the Dove Award's 45th year, and GMA's 50th year, we knew we would have some video aspects that would really need to make an impact."
Using PixelFLEX's 8mm FLEXCurve LED tiles, the show began with a 17 foot tall by 30 foot wide video screen to showcase the history of the event and association that are responsible for bringing together a wider variety of artists than any other genre of music. After the opening, the bottom of the screen pulled away to be revealed as four separate seven by seven LED set carts, with a crown remaining overhead.
The carts were used for multiple looks for the performers that included artists such as the Newsboys, Natalie Grant, Hezekiah Walker, King and Country, Erica Campbell, Mercy Me and Mandisa among many others.
Elite's Vice President of Event Productions Tom Wilson also outfitted the award ceremony with two Barco FLMHD20's, a large venue projector used for stationary side projection screens. Tyler Truss and CM Load Star 1 ton motors supported all of the visual components for the night's event.
"The Dove Awards is where the family of Christian music comes together to honor the year and each other," Scott said. "It's really about getting that family together."
"This ceremony is unique in that it's a variety of artists under one roof, with one common goal," Wilson said. "It's an immense pleasure of mine and Elite's to work with all of these artists and Scott, and we feel honored to showcase the diverse yet familial live event through the visual support of video."
For more information about the Gospel Music Association, visit www.gospelmusic.org. For information on the Dove Awards and 2014's nominees and winners, visit www.doveawards.com
For more information on Elite Multimedia Productions and its notable production projects, visit www.EliteMultimedia.com. Follow Elite Multimedia Productions at www.facebook.com/elitemultimedia or @elitemultimedia
For more information on De Lux Productions please visit www.delux.biz