Crystal Screens ALR Projection Screen
By Victor Samuels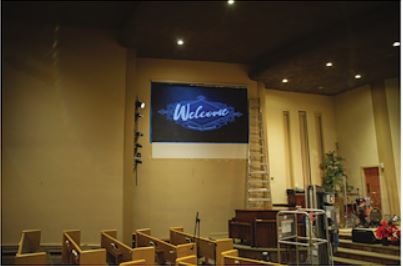 Mt.Tahoma Seventh-day Adventist Church in Tacoma, WA was in dire need of a solution for our washed-out projection screens. Originally using matte white projection screen paint and custom wood trim frames, we saved a lot of money instead of buying a pair of screens, but the overhead lighting and under-powered projectors had led us to the point where it was time to look at a different solution.
My natural tendency was to simply purchase brighter projectors to help us see the image better. As I was putting together a spreadsheet of what I thought we needed to CRYSTAL SCREENS BY VICTOR SAMUELS present to our church board, I happened to have a phone call with Tim Adams, the principal of Timato Systems, a system integrator and consultant that we have worked with before. He asked a very direct question, "How do you project black onto a white surface?"
I couldn't answer that question and he proceeded to tell me that most of the time, people think they just need a brighter projector and that will provide a better image. He explained that what we perceive as a great image is largely due to contrast in the image, which provides deep, saturated colors and depth. You cannot get this with white screens because blacks will always come out as some shade of grey. Tim has spent the last few years evaluating different ambientlight rejecting screen technologies and solutions and thought he might have one that would work for us and remain under budget, and put together a bid that utilized a new ALR screen paint from a company called Crystal Edge Technology. Given that he is a professional and would handle the installation, I chose to go with his bid and we proceeded.
When Tim came to do the install, he simply had to paint the screen with the new ALR paint. The hardest part was that our screens are about 14' off the floor, so he had to use a ladder and extension pole, but there was nothing special about the application, which means anyone can use this to revitalize their current screens and achieve similar results to ours.
We also upgraded our projectors from 4500 lumens to 6000 lumen laser projectors, which allows us to have little ongoing maintenance and no lamp changes for at least 10 years, based on our average usage. The reason we chose to go with a slightly brighter projector was because Tim explained to us that with any ALR technology there will be a drop in the whites in the projected images, so we followed his advice. However, I can tell you from my experience with this paint that the benefits of getting such a huge increase in contrast is worth sacrificing some of the brightest whites. I remember thinking when I saw the updated screens for the first time, "That is a really clean picture and the screens look like huge TVs!"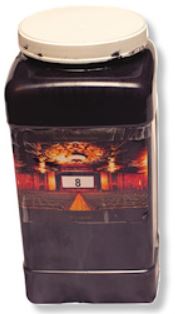 The awesome thing is that now we have two extra projectors that we can re-purpose in another part of our building-they are not junk and that saves us from having to purchase new projectors for our classroom or fellowship hall in the future. From what I understand, the paint has spent years in development and has been designed as a way to save people money and provide more flexibility in creating custom screens and aspect ratios.
For churches of all sizes, this paint offers significant savings and an alternative to large screen TVs and LED video walls. There are so many reasons this product is a good investment for churches. For example, with a TV, you're stuck with the size the TV comes in; with this paint, you can not only spend less money, but you can have a much larger screen for the money. For large churches that are looking at LED video walls, there are many hidden pitfalls to that technology. Things like color and brightness matching, ensuring all LEDs in the panels come from the same batch, ongoing maintenance, structural reinforcement, powering the screens, the processors required to feed signal, etc. On top of all that, you have to turn the brightness down to well under 50% for indoor use so there's always the question of whether you are really experiencing all the value you paid for.
For a fraction of the cost, this paint can be used on wood, plastic, glass, drywall and virtually any surface (including styrofoam!) to allow you to create a projection surface with high contrast,
which opens the door to a variety of different ways you can really get creative with your worship presentations. This means you don't even need an actual screen, you can build your own or paint directly onto your wall, which is what we did. You can even use this to paint with retractable manual or electric screens, because the paint won't crack or peel.
This really is incredible stuff and while I am completely sold on it for just about any application,, you still need to make that you are properly calculating for screen size, throw distance, aspect ratio, etc., to make sure your expectations will be met.
If you're tired of washed out projection screens and want to see if this paint might be a viable option foryou, I would strongly urge you to check out Crystal Edge Technology and perhaps drop Tim a line to see if you can experience the projected image the way it was meant to be.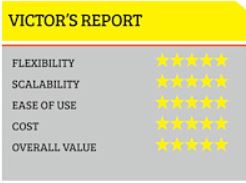 Our church members could not be happier with the results of this upgrade, as we can finally see the images and text being projected onto our screens without it being washed out or affected by the downlight right above them. We've had at least a couple members ask if we put in big TVs because the images are just that good! I simply can't believe how well this paint technology improves the sharpness and the contrast quality of the projection.
VICTOR SAMUELS SERVES AS THE MEDIA DIRECTOR AT MT TAHOMA SDA CHURCH IN TACOMA, WA. HE HAS BEEN SERVING FOR 15 YEARS TO SUPPORT THE AUDIO/VISUAL, PRESENTATION AND LIVESTREAMS AT MT TAHOMA.