Cosmic Truss Shows New Product Ranges at LDI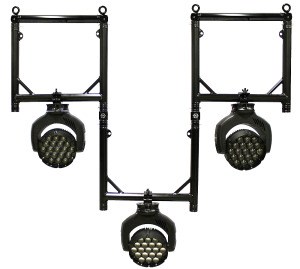 Always working to stay at the forefront, Cosmic Truss will be bringing a number of new products to the forthcoming LDI trade show that runs in Las Vegas from the 21-23 November, including the world premiere of its new U-Torm system.
The U-Torm is a new, flexible solution to the problem of suspending drop fixtures and finding tormentor positions, in a completely modular solution from Cosmic Truss. Comprised of modules and sections that fit seamlessly together with standard pipes and adaptors from the Cosmic Truss range, the U-Torm allows endless configurations for single fixtures, double hangs or ladders of multiple fixtures. Each U-Torm is designed to take a load of up to 110 lbs. For ladder configurations, it is possible to hang up to 10 U-Torm units beneath each other without the need for any additional rigging. The U-Torm system has been designed for quick deployment and can be hung or mounted to a floor stand. All U-Torm brackets and components are available in a natural aluminum, or black finish as standard, but other colors can be provided on request.
Also getting their first showing will be the new range of safety barriers. Four standard designs are available; a Straight Barrier, a Gated Barrier, an Access Void Barrier and an Adjustable Corner Barrier, all of which interlock together easily and quickly. All barriers are manufactured from high grade aluminum, keeping the units lightweight, but ensuring their strength.
Additionally, visitors will be able to see the full range of Cosmic Truss crank stands along with samples from the full truss range that the company manufactures.
Cosmic Truss can be found at Booth #2859 and visitors are invited to attend the show and get a free entrance pass by clicking here.