Advanced wireless intercom solution is purpose-built to harness the full capabilities of 5GHz and IP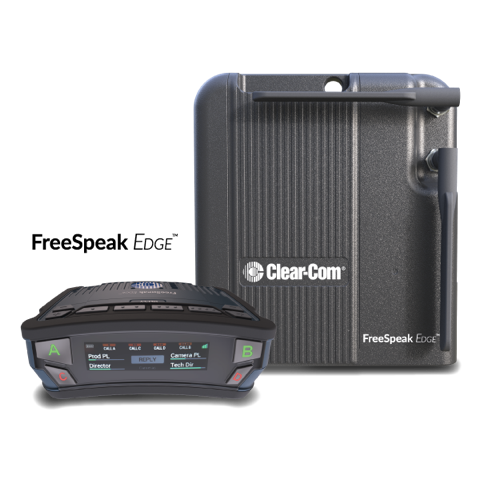 Clear-Com® is proud to announce FreeSpeak Edge™, the latest addition to the industry-leading FreeSpeakÔ family of digital wireless intercom solutions. FreeSpeak Edge is the most advanced wireless intercom system, delivering the best audio quality and enhanced performance in some of the most complex live performance environments. The system also gives the user more control and customization options, thanks to advanced frequency coordination capabilities and intuitive design features in the system's transceivers and beltpacks.
Built from the ground up, FreeSpeak Edge is the result of extensive feedback from existing FreeSpeak II power users, incorporating recent advances in the fundamental technology, leading to an all-new 5GHz chipset that features an exclusive radio stack development which has been optimized for intercom. FreeSpeak Edge also leverages state of the art audio-over-IP developments in its architecture, utilizing AES67 connections between the transceivers and the host intercom frame for exceptional flexibility in deployment.
"FreeSpeak Edge is the future of advanced wireless communication," said Bob Boster, President, Clear-Com. "While some manufacturers are trying to improve incrementally on existing solutions, we have leapfrogged right to the edge of what is possible with wireless intercom technology today, in readiness for tomorrow's increasingly demanding requirements. We often hear talk of so-called game-changers, but FreeSpeak Edge is the real deal."
The 5GHz band is an ideal choice for large scale communications, as it can be managed with frequency coordination for reduced interference and offers the widest range of RF channels available for exceptional scalability. Its higher frequencies mean there's more bandwidth for data which allows for finer control, additional audio channels, more robustness, lower latency and better audio quality.
FreeSpeak Edge leverages all the power of 5GHz technology to perform flawlessly in even the most challenging venues and high multipath environments. The system takes advantage of Clear-Com's exclusive RF technology which uses OFDM to provide a robust transport layer that is immune to most forms of interference. FreeSpeak Edge delivers the clearest 12kHz audio quality with ultra-low latency and is highly scalable with the technology and bandwidth to support over 100 beltpacks and 64 transceivers to accommodate the largest productions. It can be combined seamlessly with FreeSpeak II 1.9GHz and 2.4GHz systems, providing three bandwidths across a single unified communications system.
FreeSpeak Edge transceivers and beltpacks offer more customization and control than ever before to accommodate increasingly complex communication needs. The beltpack's ergonomic design includes asymmetrical concave/convex top buttons for identification at a glance and touch operation; eight programmable buttons; rotary controls on both sides; and a master volume control and flashlight on the bottom. With a mic and speaker for headset-free or desktop operation, the beltpack was designed with today's production needs in mind. Each ruggedized transceiver supports 10 beltpacks and includes attenuation and external antennas for custom RF zones as well as wall and mic stand mounting options. The system delivers the robustness and reliability that customers have come to expect from the award-winning FreeSpeak range.
FreeSpeak Edge is available for demonstration, along with a wide range of Clear-Com's trusted intercom solutions. FreeSpeak Edge is scheduled to ship in January 2020.