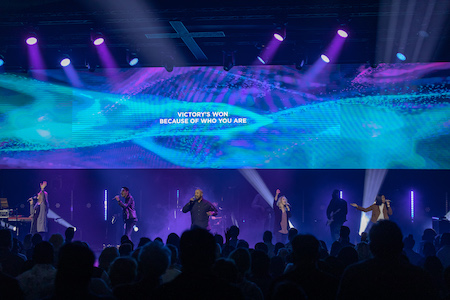 VITEC, a worldwide leader in advanced video encoding and streaming solutions, today announced its MGW Ace Encoder and Decoder were successfully installed at Life Church and its four satellite campuses in Memphis, Tenn. Part of VITEC's Houses of Worship Solution, the MGW Ace Encoder and Decoder allow the church to live stream its services from the main campus to its satellite locations easily, affordably, and in the highest quality with perfect synchronization, providing an enhanced video delivery that truly engages followers.
"The two most important things for us when we were looking for a streaming platform were reliability and performance," said Brian Pitre, Life Church's Creative Director. "VITEC, without a doubt, delivers on both. It's been more than a year, and we have not had a single issue. That's a testament of VITEC's absolutely flawless technology."
Life Church's years long search for a streaming solution that would easily and reliably record a high-quality broadcast video from the main location and stream it live to multiple satellite locations simultaneously without errors and with delayed playback ended with VITEC. Well-known in the house of worship market, VITEC utilizes cutting-edge HEVC encoding technology and the industry-leading Zixi™ error-free streaming protocol to seamlessly and reliably transmit multiple independent IP streams in high quality to churches of any size over the existing IP infrastructure.