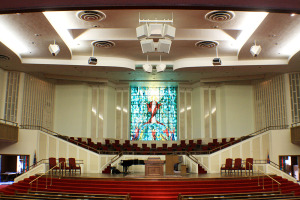 Trinity Baptist Church offers the San Antonio community three campuses for worship. Recently the church leadership decided that it was time renovate the sanctuary at the Mulberry campus – the first church in the group – and install a new sound reinforcement system featuring Eastern Acoustic Works (EAW) loudspeakers.
The existing system at the church was an older, distributed system that was long past its prime. Vocal intelligibility and coverage had been an ongoing issue and the sanctuary required additional choral and orchestra support. The shoebox-shaped space, with a wrap-around balcony and seating for 1300, also received a complete facelift during the audio-video upgrade.
At the beginning of the process the church contacted Idibri, a prominent design firm located in Dallas, to create a new sound reinforcement system that would meet the current and future needs of the sanctuary. San Antonio Sound & Light (SASL), located in San Antonio, was tapped to install the audio components as well as a new video system for the church.
---