GC Pro acts as a one-stop shop for church's AVL needs, including systems design and integration, readying the facility for a new generation of worshipers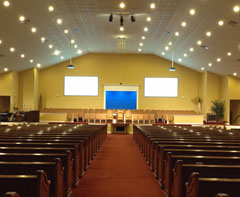 The New Hope Baptist Church of Perry, Georgia, intimately understands the need for AV technology for communicating its message. But like many churches, New Hope needed help figuring out what would best suit its needs. That's where Guitar Center Professional (GC Pro), the outside sales division of Guitar Center that focuses on the needs of professional users, came into the picture. GC Pro account manager Brad Lyons met with the church's leaders and offered a turnkey solution that comprehensively addressed audio, video and lighting in a single package.
GC Pro brought in one of its Affiliate Program members, locally-based Commercial Sound and Video, to implement all of these integrated solutions. They included a single-point line JBL VRX932 line array above the church's front area with JBL CBT70J side-fills on each side. Three JBL PRX718XLF self-powered subwoofers were cut into the stage and installed. The choir monitor is a single JBL CTB70J1 line array cabinet behind the VRX line array. This is all powered by nine Crown XTI2002, XTI4002 and XLS1500 power amps. A new 32-channel Soundcraft Expression console with a 32×8 stage box is connected via CAT5.
---