Dallas-based worship organization enhances services, reduces costs with Renewed Vision software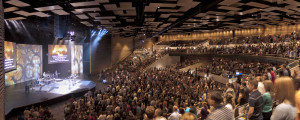 Watermark Community Church, a prominent biblical community with a worship presence in three Texas cities, has chosen Renewed Vision's ProVideoPlayer 2 (PVP2) to create dynamic, high-impact multiscreen video presentations at its 3,500-seat Dallas worship center.  The PVP2 installation is a significant element of a larger technology upgrade, which includes a dedicated fiber network to connect its Dallas location with a 500-seat worship center in Fort Worth; and a third worship center opening in Plano in early 2015.
Les Brown, technical director for Watermark Community Church in Dallas, was seeking a reliable and affordable solution to replace a six-year-old Green Hippo media playback server, which reached end of life and could no longer be upgraded.  He researched PVP2 following recommendations from media technicians at other houses of worship and drew on his experience using another Renewed Vision product, ProPresenter 5 software.  Brown notes that ProPresenter has performed flawlessly for years, displaying biblical passages, song lyrics and other media content during services.
---