Canon REALiS Professional A/V Series Multimedia LCOS Projector
January 25, 2013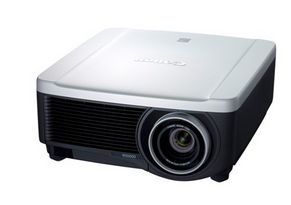 The Canon REALiS line of Professional A/V Series Multimedia LCOS installation projectors deliver high-brightness, high-resolution performance designed for the needs of long-throw venues with relatively high ambient light levels, such as houses of worship. The line includes:
1- The REALiS WX6000 – WXGA+ (1440 x 900) resolution; 5700 lumens; 16:10 widescreen aspect ratio.
2- REALiS SX6000 – SXGA+ (1400 x 1050) resolution; 6000 lumens; 4:3 aspect ratio.
3- The REALiS WUX 5000 – WUXGA (1920 x 1200) resolution; 5000 lumens; 16:10 widescreen aspect ratio.
4- The REALiS WUX 4000 – WUXGA (1920 x 1200) resolution; 4000 lumens; 16:10 widescreen aspect ratio.
All utilize Canon's unique fourth-generation AISYS (Aspectual Illumination System) optical technology to maximize the display capabilities of their advanced LCOS (Liquid Crystal on Silicon) imaging panels for the projection of intricate detail, high brightness, and accurate color, as well as to provide exceptional reliability and first-in-class energy efficiency.
Four optional high-resolution interchangeable Canon lenses are available for these projectors, including the new RS-IL04UL ultra long focus zoom lens, which provides a 1.95X zoom ratio optimized for 60-inch to 600-inch screens. All four lenses are similarly sized to fit within the body of the projector, allowing for easy installation, regardless of the desired throw distance, when using a lift.
All four Canon REALiS Professional A/V Series Multimedia LCOS projectors have advanced features to facilitate installation and maintenance. These include a powered lens shift (which can be operated in both vertical and horizontal directions) and easy-access lamp and filter assemblies. A wide variety of industry-standard digital and analog terminals and connectors ensure compatibility with virtually all video and computer devices. RJ-45 and RS-232 ports provide control and monitoring options.
For more information, go to: usa.canon.com/projectors.