Camel Audio amends Alchemy Player and serves up Taste of Camel
February 27, 2013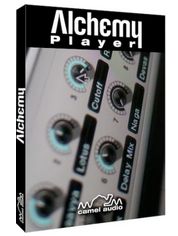 Professional audio plug-ins developer Camel Audio is proud to announce availability of Alchemy Player v1.55, a major update to its free popular Alchemy Sound Library and SFZ player synthesizer, together with Taste of Camel, a tasty Alchemy appetiser, as of February 21…
Alchemy Player v1.55 is designed to keep inspiration flowing with a fully-featured preset browser, 200 presets, faster preset loading times, improved remote control from the Alchemy iOS app, and many more enhancements.
POWERFUL NEW BROWSER
The new browser is probably the most fully-featured sound browser available anywhere, allowing users to find all their slow attack strings, glitchy dubstep basses, tempo-synched warm pads, or whatever they need in a matter of seconds. All previously released Camel Audio presets have been carefully tagged by category, subcategory, genre, sound library, sound designer, articulation, and timbre. Finding favourites is a breeze — simply rate presets with a single click and then sort by rating. Users can add tags to make it easy to call up presets associated with a particular project or live set, and can also add comments to presets with playing notes or other tips. Track down the perfect sound in a host of different ways with this powerful browser.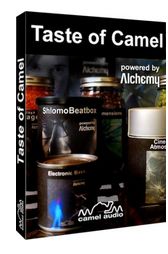 DEDICATED iOS REMOTE
Alchemy Player v1.55 with the latest update to Alchemy on iOS offers even smoother and more expressive remote control. Change preset, move the remix pad, and access performance controls — all without leaving the comfort of your controller keyboard. Previously the domain of multi-thousand dollar devices, polyphonic pitch bend is new to this update, and offers an amazingly expressive way of playing instruments — especially when combined with polyphonic aftertouch.
Camel Audio has also announced the release of Taste of Camel, a tasty appetiser of presets chosen from a menu of 24 Alchemy libraries. This comprehensive 120-preset collection covers genres as diverse as Electronica and Ambient to Pop and Dubstep, and features 1GB of samples and sampled SFZ instruments, including synths, guitars, basses, sound effects, drum kits, and loops. All presets are fully tagged for the new browser in Alchemy Player v1.55, which is included for free.
Alchemy Player v1.55 is available now for free from here: http://www.camelaudio.com
Taste of Camel can be securely ordered from Camel Audio's online Shop (http://www.camelaudio.com/shop.php) for $15.00 USD/€12.00 EUR/£10.00 GBP, and is compatible with Alchemy v1.5, the ultimate sample manipulation synthesizer (available separately for $249.00 USD/€199.00 EUR/£179.00 GBP), and the free Alchemy Player v1.55 (included).
Those tasty sounds of Taste of Camel can be seen and heard in this 'vintage' mirthful 'mouth-watering' demonstration video: http://www.youtube.com/watch?v=jAKNxbi2yE4