BenQ Now Shipping RP700+ Interactive Flat Panel Display
New IFP Brings Six-Point Multitouch Technology and Multiplatform Compatibility for a Multitude of Digital Signage Applications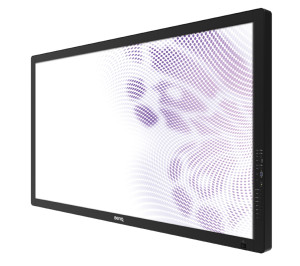 BenQ America Corp., an internationally renowned provider of visual display solutions, today announced the official release of its latest interactive flat panel (IFP) display: the RP700+. Designed to increase classroom interaction, boardroom collaboration, and make wayfinding more intuitive, the 70-inch full HD display uses six-point multitouch technology to provide incredibly responsive feedback and more accurate positioning. As a result, students, presenters, and information seekers are able to experience enhanced screen sensitivity while features such as multisource compatibility and enhanced visual comfort turn the panel into a comprehensive solution for any of today's interactive digital signage applications.
The perfect presentation tool, BenQ's new RP700+ enhances any learning or meeting space via 1920 x 1080p resolution, 4000:1 contrast ratio, and 350 nits of brightness, and the unit's two 15W speakers provide the audio power needed to complement any interactive application. Featuring advanced six-point multitouch technology, the RP700+ enables extremely receptive tactile navigation, allowing users to simply touch the screen for responsive panning, zooming, and scrolling, just like a tablet. To increase viewer comfort, the panel is equipped with anti-glare glass to reduce screen reflection and eliminate any visual noise caused by glare. The display's ambient light sensors also adjust brightness based on surrounding light levels to reduce eye strain and produce up to 50,000 hours of light life, while the unit's anti-fingerprint finish and low blue light technology further optimize the viewing experience.
To increase installation flexibility, the RP700+ can be positioned in portrait or landscape mode while hotkeys embedded onto the front bezel enable quick and easy access to menus, volume, and other control features. With three convenient USB ports also on the front bezel, the RP700+ can support up to three sources simultaneously while providing overall access to HDMI(R), VGA, RS-232, and S-Video via additional ports. Compatible with Windows(R), Mac(R), Linux(R), and Chrome OS(TM), the IFP works seamlessly with any PC or smart device via easy plug-and-play capabilities. The RP700+'s intuitive DisplayNote teaching software tool is ideal for classroom applications, enabling learners to stream content, collaborate, and contribute to any presentation in real-time via multiple tablets or laptops.
"BenQ continues to expand its professional portfolio of digital signage solutions with innovative, collaborative, and quality products like the all-new RP700+," said Bob Wudeck, Associate Vice President, Strategy and Business Development at BenQ America Corp. "Featuring multitouch technology, any-source connectivity, and wireless presentation capabilities, this interactive flat panel is one of the market's most versatile solutions, packed with features that expand and enhance any presentation, learning session, or public information point."
The RP700+ is now shipping in North America. More information on the full line of BenQ products is available at www.BenQ.us.