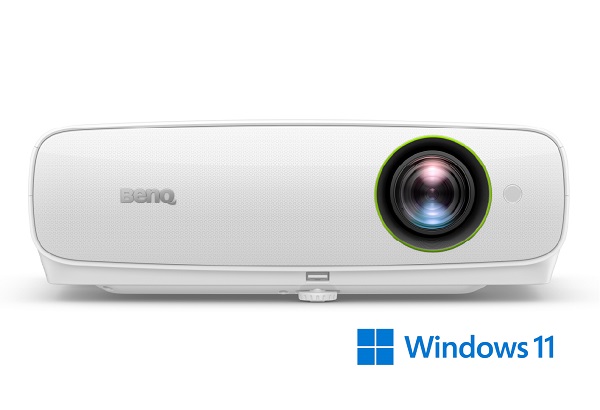 BenQ, an internationally renowned provider of visual display solutions, is enabling productive meetings with its new EH620 smart meeting room projector. Built on the Windows 11 platform, the projector enables meeting-goers to get started without a laptop or PC. To ensure the projector is no longer merely a device for displaying presentations but rather the room's central hub, the EH620 is equipped with built-in Edge and Chrome web browsers, simple access to cloud storage platforms, casting and wireless presentation system options with four-way split windows for sharing multiple screens simultaneously, preloaded video conference options, built-in apps, and the BenQ Launcher utility to streamline workflows and launch meetings instantly.
"Our goal at BenQ is to create display solutions for meeting rooms that are as capable as any PC or laptop, giving meeting-goers the freedom to work right from the display itself and ensure not a second is wasted on troubleshooting or connecting devices," said Bob Wudeck, senior director of business development at BenQ America Corp. "The BenQ EH620 smart projector is the culmination of that goal. It's a powerhouse hub that's simple to use and creates the collaborative meeting environments needed today."
The EH620 Is the Room's Hub
Featuring the built-in Windows 11 platform, the EH620 allows users to log in to the projector just as they would a Windows PC. There is no need to spend time learning how to operate a new device while collaborating. This reduces device clutter and distractions while increasing capabilities when connected to a wireless keyboard-mouse set and webcam. Users can start smooth online meetings instantly. The smart projector also features built-in Edge and Chrome browsers for easy web searches. Users can access their cloud account files on Google Drive, OneDrive, and Microsoft Teams without using laptops. This effectively reduces meeting preparation time, with users getting everything done on one projector to present seamlessly. The BenQ-exclusive Launcher interface organizes apps into three groups, saving users time spent downloading, searching, or logging into apps. They just click the apps and start the meeting.
The EH620 Is Hybrid-Ready
The BenQ EH620 also supports all BYOD devices. Without installing any additional software or using Wi-Fi dongles, users can wirelessly present by either casting their devices directly to the projector with Miracast, AirPlay, or Google Cast (available in December 2022), or by utilizing BenQ's InstaShare application. Up to four presenters can share their screens simultaneously with a four-way split-screen. Plus, the projector supports hybrid meetings. When running a video conferencing app directly from the EH620 and wirelessly casting, both remote and in-room attendees can view the casted presentations.
The EH620 Is Video Conference-Native
Since the EH620 is preloaded with meeting apps including Google Meet, Skype for Business, and TeamViewer Meeting, users can launch and join video conferences directly from the projector to free up personal devices from public use. The projector detects plug-and-play web cameras automatically and will switch to the optimal Vocal Audio Mode when the app launches.
The EH620 Is IT-Friendly
BenQ has identified three priorities for IT and ensured that the EH620 meets them: easy to install and set up, centrally managed, and robust in security. First, IT administrators and staff can bring their Windows PC experience directly to the EH620 projector. It bypasses complicated settings, especially with software installation and wireless setup. For IT managers, the EH620's RJ45 port enables integration with commonly used PJLink, Crestron, and AMX platforms, allowing them to access device information from a central location. In addition, the smart projector auto detects the firmware version and sends update availability notifications to ensure the firmware is current at all times. Finally, for security, all wireless transmissions are protected by WPA2 AES 128-bit encryption and with Firmware Trusted Platform Module (fTPM), data is protected. Users — guests included — can cast their files to the EH620 without connecting to the local Wi-Fi network, thereby limiting opportunities for hackers.
More information on BenQ is available at https://www.benq.com/en-us/business/index.html.