Audix Mics Serve Athey Creek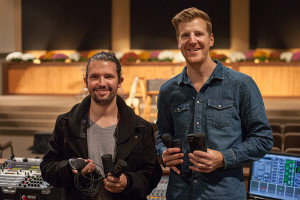 Athey Creek is a non-denominational Christian church in Wilsonville, OR that serves a diverse community. As such, they need to provide worship experiences that are appropriate and meaningful to a wide variety of parishioners. Athey's technical team has to be prepared for any number of service scenarios and miking strategies, and Audix provides the solutions they need.
Head Technical Director Tim Miller and Assistant Technical Director Ryan Shrout were kind enough to share some thoughts on how they go about their work using Audix mics:
"My wife and I attended Athey Creek for a few years before the need for a full-time tech director arose," says Tim. "When the church began looking for help, I volunteered for a season, which eventually turned into a full-time job. My background is as a musician, but I really cut my teeth at Athey on the technical side of sound. Bringing both the musical and technical sides to the table helped to understand miking and mixing."
"I have been attending Athey Creek off and on for the past 14 years," adds Ryan. "I toured around the nation in Kutless, a Christian rock band. Coming off the road lead me to where I am as the assistant technical director, in a roundabout way."
Both Tim and Ryan discovered Audix microphones on the job. "My first experience with Audix was when we blew out our old kick mic probably 6 or 7 years ago," Tim explains. "We were using the same mics for all the drums when I started. I saw the Audix DP5A set and really wanted to start using specific mics for specific applications. We had a guest professional leading worship that weekend, so the needs just combined. Now, the D6 is probably my favorite mic that we own, and it's lasted for years!"
Ryan adds, "I was introduced to Audix when I was a guitarist touring with Kutless.  We were fortunate to have an endorsement relationship with Audix.  I was blown away by the superior sound quality that these microphones provided.  We always insisted on using our Audix mics in concert. I think Audix products are the best mics on the market, and for so much less cost than the real competition!"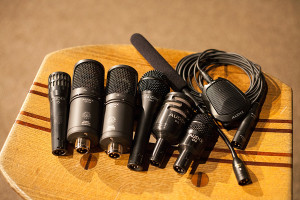 "The D6 is amazing for low end depth and clarity on kick," Tim says." I love it on floor tom too, or sometimes we'll put it on cajon for acoustic sets. The OM7 is great when needing smooth lead live vocals. One of my favorite producers just shared with Ryan that he loves the i5 for electric guitars. Recently we've been playing with using the CX212B on our guitar cabs. We've also used them for ambient mics for in-ear mixes. They're all really flexible depending on what the service calls for."
The Athey Creek technical crew currently uses nine different Audix microphone models to solve their miking needs. The D-Series D2, D4 and D6 cover drum kits. i5 dynamic or CX212B condenser mics are used on guitar amps. OM 7 and OM2 dynamic mics are used for vocals. The ADX12 and ADX60 microphones are used for pulpit, lectern and floor miking applications.
"We use Audix mics for every single service, whether it's a D6 on the kick for warmth and presence at the same time, an i5 for the snare or the CX212B for that super warm guitar tone that just sings," says Ryan. "Whatever the application, Audix delivers without fail!"
For more information on Athey Creek Christian Fellowship visit: www.atheycreek.com.
For Audix information go to www.audixusa.com